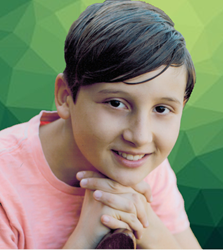 "I'm glad that I can be me."
San Rafael, CA (PRWEB) April 14, 2017
Golden Gate Opera presents the West Coast Premiere of Gian Carlo Menotti's "The Boy Who Grew Too Fast," a one-act opera for young people on Sunday April 30th at 2 pm and 4 pm in Two Shows Only at Marin Showcase Theatre in Marin Civic Center, located at 10 Avenue of the Flags, San Rafael, CA 94903.
Brian Asher Alhadeff is conductor and music director. Edna Garabedian is stage director. Richard Adamson is scenic designer. Timothy Leon is assistant conductor. The cast of professional opera singers in adult roles includes Jacqueline Goldgorin as Miss Hope (The Teacher); Michael Orlinsky as Poponel (The Boy), Anna Yelizarova as Mrs. Skosvodmonit (The Mother), Carmello Tringali as Dr. Shrinck, Gregorio Gonzalez as Mad Dog, Alexandra Jerinic as Miss Proctor (The Nurse), Courtney Rhone as Lizzie Spender (The New Girl), and introducing 11-year-old Leith Grifoni as Little (Shrunken) Poponel,
Children's chorus singers as The Classroom of Children are provided by Colorful Universe Children's Performing Troupe and Singers Marin Youth Chorus. The orchestra is an exciting first-time collaboration with MUSICA MARIN.
Special composition: Menotti wanted to write an opera that would completely captivate the attention of children. It is 40 minutes in length, has no long arias or long choruses, and is a one-act, action fun-filled opera with magical shrinking machine and surprise ending! One of the characters is found in the audience snoring, and one character talks to the orchestra and conductor and they answer back. This music and story has real Menotti flavor. In the end you, too will appreciate everyone's individuality. "Be glad that you can be who you are" is the celebration in the (short) finale. Children will identify with the story set in a classroom and adults will love this too, with its many layers of hidden meanings that enhance life. Sponsors include Wells Fargo Bank, The Bernard Osher Foundation, Bullying Prevention Committee of Novato, California.
Don't Miss This! Two Shows Only on April 30 2017. ORDER TICKETS NOW: Call (415) 473-6800 or ONLINE: tickets.marincenter.org/
Ticket prices: Child 7-16 $15; Students 17-21 $20; Adults $30; Gold $50