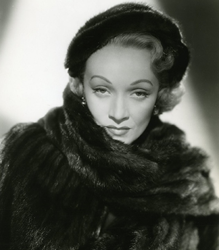 Today's fashions are becoming more and more elaborate and, therefore, labeling is needed more than ever for both informational and branding purposes.
Los Angeles, CA (PRWEB) April 20, 2017
An April 10 article in WWD describes an innovative idea proposed by multitalented mid-20th century entertainment legend Marlene Dietrich in 1958. In a move foreshadowing what we now know as fashion tech, she asked costume designer Jean Louis to create a "nude" dress that also glowed, complete with descriptions of types of circuits and batteries that might be used. Though the dress was beyond the capabilities of designers of her day, a facsimile was created for a new documentary about Dietrich and the dress being aired next month on European television. Los Angeles based fabric label manufacturer Hi-Tech Printing & Labeling Inc. notes that, while the trail blazing actress and cabaret performer might have been ahead of her time in many ways, today's fashions are becoming more and more elaborate and, therefore, labeling is needed more than ever for both informational and branding purposes.
While actual electronics might still be relatively rare in clothing, the label maker notes that today's apparel is made with a vast array of materials, and that means that caring for clothing has become more complicated than ever before and consumers need to know exactly how items should be cared for. After all, especially with more expensive items, it's crucial that purchasers understand which items must be professionally dry cleaned, which items are washable at home, which may be put in the drier and at what setting, and so on. Therefore, Hi-Tech Printing & Labeling notes that fabric labels remain the most convenient and clear way to communicate needed information to consumers.
The firm adds that other types of changes in recent years have increased the importance of labels. This includes the growing consumer interest in purchasing clothes that express their values. While the most obvious manifestation of this trend is clothing, such as t-shirts, that sport political or religious/spiritual messages, Hi-Tech Printing and Labeling Inc. points out that a far more subtle expression of values goes to the methods used to manufacture a product. For example, many consumers are interested in purchasing products that are manufactured in the United States out of a concern about both the U.S. economy and the treatment of workers in certain nations. The firm adds that many other clothing buyers are motivated by concern with the environment and wish to purchase products that are sustainably sourced and manufactured.
Hi-Tech Printing & Labeling Inc. concludes by noting that fabric labels and tags are a form of communication that has become increasingly necessary in today's ever more complex consumer landscape. Readers who would like to learn more can reach the firm at (213) 746-7772 or visit it online at http://www.FabricLabels.com.