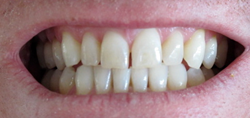 The finding is a potent reminder of the countless advances that have been made in dental care practices and technology.
Los Angeles, CA (PRWEB) April 21, 2017
An April 10 article in the Daily Mail describes the discovery in Northern Italy of a pair of ancient teeth, which reveal a great deal about prehistoric ice-age dental practitioners and their primitive and, no doubt, painful techniques. Archeologists have deduced that a sharp stone may have been used to remove decayed dental matter, and that teeth were then filled with bitumen, a substance similar to tar which today is used for roofing and road construction. Western San Fernando Valley-based dental office, Medical Center Dental Care, says that the finding is a potent reminder of the countless advances that have been made in dental care practices and technology that make 21st century oral care vastly more effective and comfortable than prior generations would have believed possible. The dental clinic notes that some of the latest advances in dental care include:
Root canals – These procedures, which save teeth that have been seriously compromised by decay, have a fearsome reputation with many people. However, Medical Center Dental Care notes that, when performed properly using the latest techniques, root canals now involve remarkably very little discomfort, though they may take somewhat longer than most other common dental procedures. They note that their resident endodontist, Dr. Harry Malhotra, is the choice of many dentists when they need root canal therapy and he has achieved very wide acclaim for his ability to comfortably and conveniently restore teeth.
Dental Implants – When teeth cannot be saved and need to be extracted, or are already missing, there are a few ways to address the situation. While dentures and bridgework are familiar solutions, and definitely much better than leaving teeth un-replaced, Medical Center Dental Group notes that oral health experts agree that dental implants are by far the best solution because, they not only function and look exactly like real teeth, they are the only type of replacements that actually prevent bone loss and other potentially seriously systemic health problems that appear to be associated with missing teeth. The clinic notes that its oral surgeon, Dr. Brijesh Patel, a respected specialist in Oral and Maxillofacial Surgery, has performed countless highly advanced procedures and his patients consistently report to the center's staff that they are absolutely delighted with the ultimate outcomes of their work.
Readers who would like to learn more about the many advanced options, including the very latest in cosmetic dentistry, available from Medical Center Dental Care may contact the clinic at (818) 452-0038. They may also learn more online at http://www.MC-WestHillsDentalCare.com.