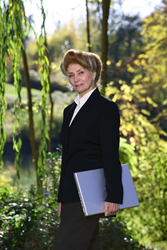 Grants Pass, OR (PRWEB) April 13, 2017
Date aired: April 10, 2017
Guest: Mike Markus, General Manager, Orange County Water District in California
http://www.ocwd.com
As most people know, much of the state of California has suffered from a three-year drought, which has mercifully been coming to an end over the last two months. Sharon Kleyne, the nation's foremost water advocate and host of the nationally syndicated The Sharon Kleyne Hour Power of Water, Global Climate Change and Your Health on VoiceAmerica, sponsored by Nature's Tears® EyeMist®, focused on the latest updates from the state on her program that aired on April 10th, 2017. Helping Kleyne get the scoop was her guest, Mike Marcus, General Manager (since 2007) of the Orange County Water District.
Markus, a Hollywood native who moved as a child to Orange County, explained to Kleyne and her audience that the Orange County Water District manages, replenishes and protects the Orange County Groundwater Basin, which is the county's largest source of drinking water. The basin—270 square miles in size—delivers approximately 75% of the water supply to 2.4 million residents in north and central Orange County. Markus also explained that his district does a great job educating people about where the water comes from. He specifically mentioned one outreach program, the Children's Water Education Festival, a two-day event attracting thousands of people to talks and interactive displays.
Sharon Kleyne, founder of Bio-Logic Aqua® Research Water Life Science®, also encouraged listeners and other interested parties to experience a new, healthy Water Life Science® lifestyle. She encouraged more education and honest reportage. "Too many people are ignorant of the facts," said Kleyne. "Then they get dismissive. They say 'oh, it's only water'. Well, you might just as well say, 'it's only life'. Believe me," said Kleyne, "we have run out of wiggle room on this issue. If the global water crisis gets much worse, we'll have to contend with billions of people whose health will have suffered because they're dehydrated due to excessive evaporation of their water body vapor. At the same time," Kleyne added, "over-evaporation of earth's water vapor will severely compromise the air we breathe." Kleyne praised Markus and his district for doing so much to expand education opportunities in water and developing new technology for smarter water use.
Markus shared that the Orange County District has come to rely more and more on recycled water, specifically waste water that is, after an advanced filtration process, converted into distilled water. Orange County's is the first facility to use reverse osmosis in this process.
"People have a right to clean, healthy water," Markus concluded. "We have the technology and we have the experience. Now we need the commitment from elected officials to invest in water and water education for all."