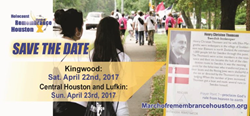 "If the church in Germany had taken to the streets during the Nazi era, Auschwitz would not have happened. If they had broken their silence and overcome their shame, the Holocaust would not have been possible." Jobst Bittner, founder of March of Life
Houston, Texas (PRWEB) April 16, 2017
Saturday, April 22nd and Sunday, April 23rd, March of Remembrance Houston is to hold remembrance ceremonies honoring heroes and survivors of the Holocaust and Nazi persecution.
Between Mrs. Rosian Zerner, a Holocaust Survivor from Lithuania where about ninety-five percent of the Jewish population was murdered; Dr. Zsusanna Osvath, who experienced the ghetto in Budapest as a seven-year-old girl; and Mrs. Bärbel Pfeiffer, whose grandfather helped install the gas chambers at Auschwitz; this year's event promises to be impactful during such a time as this. We are also eagerly expecting the participation of Texas A&M University at Galveston who will be sending Honor Guard, Color Guard and Maroon Coat volunteers. Across the greater Houston area, communities will come together Saturday, April 22nd and Sunday, April 23rd to take part in the nationwide effort to honor survivors of the Holocaust and Nazi persecution.
Attendees of all ages will have the opportunity to hear first-hand accounts of survivors, repentant Nazi descendants, and descendants of World War II liberators, rescuers and upstanders. A march (see two-minute video) will follow each ceremony to honor those who perished during the Holocaust, remember the consequences of prejudice and indifference, educate the public regarding the signs of impending genocide, and engage hearts to take a stand against modern-day anti-Semitism, so such atrocities never happen again to Jews, nor to any people group.
The Kingwood event on Saturday, April 22nd will open with a service featuring Lone Star College Professor Dr. Thilo Schimmel and students, Dr. Victoria and Paul Sarvadi, various ministers and dignitaries, descendant of survivors Michael Cahn, and liberator descendant Liz Moreno. This event will be followed by a contemplative walk, or a name-reading ceremony, at the location that will be accompanied by harp and violin. The walk will summate with talks by Holocaust survivor Dr. Zsuzsanna Ozsváth, renowned author and Professor of Holocaust studies at UT-Dallas, as well as Nazi descendants Bärbel and Anna-Suzette Pfeiffer. Rescuer descendant Dr. Margaret Nikol will also orate. All events will take place at the site of the future Holocaust Garden of Remembrance at King's Harbor.
The central Houston event in Braeswood/Meyerland on Sunday, April 23rd, will begin at Westbury Baptist Church with various ministers and dignitaries, as well as liberator descendant David Lawhon. Holocaust survivor, Rosian Zerner, will speak, followed by Nazi descendants Bärbel and Anna-Suzette Pfeiffer. They will be followed by Morris Narunsky, a descendant of Holocaust survivors. Everyone will be invited to march to Congregation Beth Israel and to attend this year's Citywide Yom HaShoah Commemoration, a remembrance event facilitated annually by the Holocaust Museum Houston. The event coincides with the nation's annual commemoration of the Holocaust that is established by Congress and led by the United States Holocaust Memorial Museum in Washington, DC. This commemoration is held and honored by the March of Remembrance and global March of Life movement. There have been marches in over 300 cities in fourteen different nations around the world.
The Holocaust was the state-sponsored, systematic persecution and annihilation of European Jewry by Nazi Germany and its collaborators between 1933 and 1945. Jews were the primary victims—six million were murdered. However, Roma and Sinti (Gypsies), the mentally and physically disabled, as well as nationalities such as the Poles were also targeted for destruction for racial, ethnic, or national reasons. Millions more, including homosexuals, Jehovah's Witnesses, Soviet prisoners of war, and political dissidents also suffered grievous oppression and death under Nazi Germany. The March of Remembrance provides a way for the community to come together and to say, "Never Again will we be silent!"
Visit our website for free registration, videos, details for each location, and more about the March of Remembrance Houston. We are available at: http://marchofremembrancehouston.org for promotion materials. Like us on Facebook
Marches of Remembrance will take place all across the nation in twenty-five different cities. For more information for a march near you, including dates and times, please visit http://www.marchofremembrance.org.