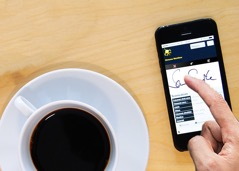 We are constantly fine-tuning our cloud-based digital signatures, adding new features and updating existing ones to improve integration, user experience and architecture
Chattanooga, TN (PRWEB) April 14, 2017
SIGNiX, the leading provider of cloud-based digital signatures since 2002, has announced numerous product updates to enhance user experience and further increase the security of its customizable digital signature solution.
SIGNiX technology is fundamentally different than electronic signature products on the market. Because it embeds legal evidence into signed documents using open, standards-based technology like public key infrastructure (PKI), its Independent E-Signatures™ will be valid decades into the future, no matter how technology changes and with no dependence on SIGNiX for verification. SIGNiX digital signatures provide independent and permanent access to legal evidence and enhance data privacy and protection against unforeseen risks in today's evolving digital environment. SIGNiX digital signatures also help companies reach their customer experience goals and improve productivity.
"We are constantly fine-tuning our cloud-based digital signatures, adding new features and updating existing ones to improve integration, user experience and architecture," said Jay Jumper, CEO of SIGNiX. "We pride ourselves on the ability to offer flexible, legally defensible solutions with robust security capabilities that meet strict compliance standards in highly regulated industries."
Recent updates include:

Personal Document Center. The Personal Document Center has been updated to give signers the ability to see transactions waiting for their input or which have been completed. This speeds up the signing process for repeat signers, who are not required to have a SIGNiX account, if this option is enabled.
Document Preview. The document preview process has also been updated to ensure signers have reviewed all necessary pages before signing. This unique capability is critical in certain regulated industries.
Signer attachments. Companies who integrate SIGNiX can now request signers add supporting attachments, and even the number and type of such documents or images. Mobile device signers can even opt to take a picture of a document such as a driver's license, for example. When the transaction is complete, the attachments can be downloaded by the company alongside the signed documents. There is also an option to ensure the transaction process will not be finalized until all pertinent attachments are included.
Branding. New branding capabilities offer customers and software partners even more customization with the option to modify colors, fonts, logos and other elements throughout the signing and document preparation process. Clients can easily embed these experiences into their own websites and applications to provide a seamless experience to end users.
Tamper-proofing. SIGNIX's digital signatures offer highly secure cyber-protection options that significantly reduce a company's risk of internal and external fraud. One such measure is tamper-evidence, which highlights if anyone changes any part of the document post-signature. SIGNiX has taken tamper-evidence one step further by providing a tamper-proof option, which customers can employ to prevent any future editing of signed documents.
Document retention and deletion options. Companies who integrate with SIGNiX now have the option to set a document deletion/retention timeline for each transaction sent to SIGNiX. After a specified date and confirmation of download, SIGNiX will permanently and securely delete the documents from its service.
In person and remote electronic notary service. SIGNiX offers e-notarization, including in-person and remote notarization, to organizations and individuals nationwide directly and also through a partnership with U&OB Notary Services. Notaries can purchase the software, and a service is also available for remote notarization. For the latter, users can meet with a Virginia-based notary public via video conferencing to verify their identity and get their documents notarized utilizing digital signatures. The notarized documents are valid in all 50 states.
Email support. Built-in bounce protection features have been updated in SIGNiX's email capabilities, enabling users to view which transactions resulted in bounced emails, and, if necessary, to resend documents to the appropriate email address. Augmented push notifications will also send companies integrated with SIGNiX real-time notifications if an email bounces. Additionally, the updates include CC and BCC email support.
TotalAuditTM. SIGNiX's detailed log of the entire signing process provides both document-level evidence—where the signature is, what browser was used, etc.— as well as transaction-level evidence. This record is a separate, tamper-protected PDF or XML document that chronicles every action taken in the transaction by every user and is a critical piece of evidence that proves a document's validity.
Optional signatures. Signers must now opt out of an optional signature or initial by clicking on an opt-out flag to indicate their intention to not sign. The opt-out action is also captured in the audit trail, ensuring evidence is captured whether someone signs or not.
"We have long prided ourselves on our security features, ease of use and compliance within highly regulated industries. These timely releases further enhance our solutions to include valuable new features that our customers have requested," said John Harris, chief technology officer at SIGNiX. "The improvements don't end here, however. We'll be introducing a new document wizard and editor, more interface advancements and other updates in the coming months."
About SIGNiX
SIGNiX, the most trusted name in digital signatures, delivers a digital signature solution that is easy to use while delivering the highest level of security and compliance. With SIGNiX, getting your documents signed electronically, either remotely or in person, is simple and safe. The online delivery of documents for execution significantly decreases cost, paperwork and turnaround time. SIGNiX's software also enables mandatory fields, eliminating the hassle of not in good order (NIGO) errors. All of SIGNiX's signed documents come with more comprehensive legal evidence to support them than any other e-signature solution on the market. All of the legal evidence is built right into the document and is independently verifiable, so you'll always have it on hand if one of your documents is ever challenged in court or through arbitration. For more information, visit http://www.signix.com.
###