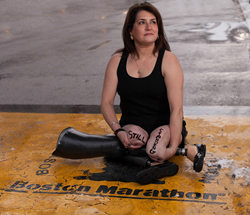 "I can't change the world, but I can help people. I can show how much good there still is in this world." Celeste said.
New York, NY (PRWEB) April 13, 2017
Boston Marathon survivor Celeste Corcoran's life changed course forever from one second to the next, but her dedication to recovery is a testament to her courage.
We felt it was important to share her story (and our experience working with her) on our blog, Still Standing: The Courage to Overcome, because it an inspiration for anyone experiencing obstacles or hardships.
Gym Source is humbled to be a partner in her journey, and proud we could help her find the fitness equipment solution she needed to "feel powerful".
"Our goal is a personalized shopping experience for each customer who walks through the door," says Tom Richard, Director of Marketing at Gym Source. "We are honored Celeste worked with us for the right tools to stay dedicated to living an active lifestyle. As America's leading retailer of premium residential and commercial fitness equipment we know we can match our clients' individual fitness goals, and physical limitations, with the right equipment."
To learn more about Gym Source, visit https://www.gymsource.com/ or connect with an equipment expert at 888-515-0075.
About Gym Source:
Gym Source is the nation's oldest and largest specialty distributor of fitness equipment. The company has 36 retail locations from Florida to New Hampshire and serves customers in all 50 states and 47 countries. Gym Source offers a full range of fitness products including treadmills, strength training equipment and ellipticals both for commercial and home use. The company takes great pride in its reputation as America's #1 fitness equipment expert and its exceptional post-sale delivery and customer service. Gym Source has made over 2 million fitness equipment deliveries to its nearly 400,000 customers.