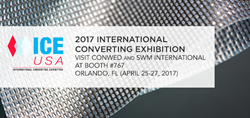 Minneapolis, Minnesota (PRWEB) April 13, 2017
Conwed, acquired by Schweitzer-Mauduit International (NYSE: SWM) earlier this year, will exhibit at the 2017 International Converting Exhibition (ICE USA) in Orlando, FL (Booth #767 - April 25-27, 2017). Organized every two years, ICE USA 2017 will gather converting professionals from nearly 50 countries and will showcase the latest converting machinery and technologies from over 350 leading suppliers. The key decision makers from a wide range of companies that convert and process flexible, web-based materials will come together seeking innovative solutions to their specific challenges.
Recently acquired by SWM, Conwed brings 50 years of netting innovation to the SWM Advanced Materials and Structures (AMS) division. This segment focuses on resin-based rolled goods and has been formed primarily with three recent acquisitions: DelStar Technologies, acquired in 2013, Argotec, acquired in late 2015, and Conwed Plastics acquired in 2017. "We are glad to join SWM because we can offer our customers an extended portfolio of advanced materials. Our netting technology continues to evolve and we can now provide a more robust bundle of solutions for the converting industry," said Ivan Soltero, senior strategic marketing manager at Conwed. As a result of these acquisitions, SWM now offers netting, yarn, fibers, films, nonwovens, and paper that can be incorporated with other substrates to create composites used in hundreds of industrial and consumer applications.
At ICE USA 2017, SWM will showcase its co-extrusion netting technology. Co-extrusion is a multi-layer extruded netting than can be subsequently oriented where different polymers can form different layers on the same netting configuration. It is a square netting construction and Conwed has the ability to build netting with A/B, A/B/A, and A/B/C layer combinations. By using co-extrusion netting with adhesive layers, manufacturers and converters may eliminate adhesive steps in their manufacturing and converting processes for specific product applications. "We enjoy exhibiting at ICE USA. It is the ideal venue to meet equipment manufacturers, converters, and business development professionals looking for advanced materials that can help them create superior composites," said Soltero.
In addition to its co-extrusion technology, SWM will showcase its entire portfolio of extruded square, diamond, flat, bi-component, multilayer, and elastomeric netting that provide reinforcement, containment, grip, protection, and stretch capabilities in diverse product designs. Typical netting applications in the converting industry include reinforcement of other substrates such as film, foil, paper, foam, bubble wrap, nonwoven, and other types of fabrics.
The ability to utilize SWM netting in diverse production processes is a key success factor for the adoption of netting in diverse product applications. "Our netting can be incorporated with other substrates to create truly exceptional composites. We have customers creating composites through extrusion coating, extrusion lamination, thermal lamination, ultrasonic welding, wet and dry adhesive lamination, and diverse in-line nonwoven processes," said Soltero.
To know more about Conwed and SWM International at ICE USA 2017, visit
http://www.conwedplastics.com/ice17
About CONWED
Conwed is the leading plastic netting manufacturer in the world. Conwed manufactures extruded, oriented, knitted and multilayer netting with unique customization capabilities. Headquartered in Minneapolis, Minnesota, Conwed has five manufacturing locations on two continents and a global distribution network. http://www.conwedplastics.com
About SWM
SWM is a leading global provider of highly engineered solutions and advanced materials. We are experts in developing and manufacturing technical materials from fibers, resins and polymers that are critical components in many instantly recognizable products and industries globally. Historically, the company focused on engineered papers but in recent years has diversified to include a range of films, nets and nonwovens, offered through its Advanced Materials & Structures (AMS) segment.
The AMS platform was created through multiple strategic acquisitions, including DelStar Technologies (2013), Argotec (2015) and Conwed Plastics (2017). SWM and its subsidiaries conduct business in over 90 countries and employ approximately 3,500 people worldwide, with operations in the United States, United Kingdom, Belgium, Canada, France, Luxembourg, Russia, Brazil, Poland and China, including two joint ventures. For further information, visit SWM at http://www.swmintl.com