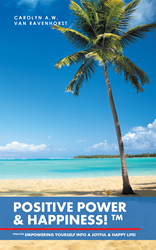 AMERSFOORT, Netherlands (PRWEB) April 17, 2017
Managing one's professional and personal life has become a greater topic of discussion and is the primary focus in Carolyn van Ravenhorst's book "Positive Power & Happiness!"
Written as a workbook for living a fuller, happier life, van Ravenhorst encourages individuals in their journey of self-improvement. This includes reaching personal goals by increasing awareness through positive thoughts and empowerment in daily life.
"I wrote this book to create a worldwide movement to transform negative power and sadness into a positive power and happiness lifestyle," said van Ravenhorst. "Instead of a book to merely read, this is a workbook that is fun to practice, easy to integrate into one's professional life, and to help teach others of its benefits."
The book serves as a source for improving one's career by finding the correct work-life balance. This includes adjusting personal attitudes and viewpoints for greater enlightenment.
In a time when many are struggling to find purpose and a sense of self-satisfaction, "Positive Power & Happiness!" inspires people to look within themselves and find deeper meaning in their personal and professional lives to attain happiness.
"Positive Power & Happiness!"
By Carolyn van Ravenhorst
ISBN: 978-1-53200-654-8 (softcover); 978-1-53200-653-1 (eBook)
Available on Amazon, Barnes & Noble, and iUniverse
About the author
Carolyn van Ravenhorst successfully reorganized collapsed businesses and got broken families back on track. Her slogan is "Making people happy and making people laugh," for which she developed the Positive Power and Happiness!™ lifestyle method. She is a lover of life and frequently travels around the world.
###
Review Copies & Interview Requests:
LAVIDGE – Phoenix
Bryan Beach
480-998-2600 x 510
[email protected]
General Inquiries:
LAVIDGE – Phoenix
Kalin Batts
480-998-2600 x 524
[email protected]