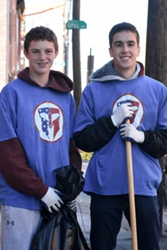 "I truly believe that the best way to honor the fallen, is by challenging the living. By performing acts of service and giving back to our communities, we unite together to build a stronger and more character driven nation." -Amy Looney
Nationwide (PRWEB) April 14, 2017
Travis Manion Foundation Brings Operation Legacy: a National Week of Service to Honor and Engage Veterans
Nationwide — The Travis Manion Foundation (TMF) will host over 30 operation Legacy projects across the country the week of April 22nd-30th. Operation Legacy is the fastest growing movement to unite communities across the nation to create positive change, while honoring the legacies of the heroes who have gone before us.
Operation Legacy projects aim to engage veterans, survivors and civilians alike by activating them to lead and serve others in their communities. Americans across the country are invited volunteer with TMF for Operation Legacy, as a way to honor the past and build the future, as we redefine America's national character.
"I truly believe that the best way to honor the fallen, is by challenging the living," says Amy Looney, the wife of LT (SEAL) Brendan Looney and VP of TMF. "By performing acts of service and giving back to our communities, we unite together to build a stronger and more character driven nation."
The projects were organized by community members, who serve as local volunteer leaders for the projects. Those interested in volunteering as a part of Operation Legacy can register or learn more information by visiting http://www.oplegacy.com
TMF will be hosting projects across the country in more than 30 locations including: Raleigh, NC; Houston, TX; Philadelphia, PA; San Diego, CA; and Washington, D.C. This past November TMF hosted community-led Operation Legacy projects around the country, which resulted in over 3,000 hours of service given back to the local community. By uniting the community for a common cause through service, volunteers live the "If Not Me, Then Who…" mantra of TMF and spearhead a movement of character, leadership, and selfless service.
About Travis Manion Foundation
The Travis Manion Foundation (TMF) is a qualified 501(c)(3) that is dedicated to empowering our nation's veterans and families of fallen heroes to develop character in future generations. In 2007, 1st Lt Travis Manion (USMC) was killed in Iraq while saving his wounded teammates. Today, Travis' legacy lives on in the words he spoke before leaving for his final deployment, "If Not Me, Then Who..." Guided by this mantra, veterans continue their service, develop strong relationships with their communities, and thrive in their post-military lives. As a result, communities prosper and the character of our nation's heroes live on in the next generation.
National Point of Contact
Derrick Morgan - Travis Manion Foundation, Director of Marketing
(215) 622-2225 - Derrick(at)travismanion(dot)org
____________________________________________________________________________________________
*** GREAT PHOTO & INTERVIEW OPPORTUNITIES***
WHAT: TMF Operation Legacy Projects, where veterans will serve within their community alongside local teens, young adults, and other civilians, to build and strengthen character in future generations.
WHERE: Nation-wide in 30+ locations including: Raleigh, NC; Houston, TX; Philadelphia, PA; San Diego, CA; Washington, D.C. and more. For list of all locations, please visit http://www.oplegacy.org
WHEN: April 22nd-30th 2017