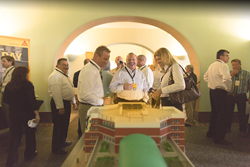 Lyndhurst, NJ (PRWEB) April 17, 2017
Sika Corporation, a manufacturer and supplier of specialty products for building construction, industry and automotive markets, is bringing its popular '365' Event Series to the Bay Area on Wednesday, May 10th at the Terra Gallery and Thursday, May 11th at the Hilton Oakland Airport Hotel.
Bay Area 365 will explore the idea that the cities we live in are shaped and reshaped by the choices we make every day.
The May 11th event will take place from 2:30 p.m. to 7 p.m. Jack Del Rio, head coach of the Oakland Raiders, will share personal stories and discuss the important role that leadership has played in his success.
Attendees will have the opportunity to choose from multiple CEU/AIA/RCI/HSW sessions to receive credits, and may interact with hands-on technology demos. The event will conclude with a cocktail hour, featuring an open bar, where attendees can share insights and ideas, and network with their peers.
The May 10th event will take place at the Terra Gallery in San Francisco from 10:30 a.m to 2:00 p.m., and will feature Special Guest ARCHITECT Editor of Design, Katie Gerfen and Guest Speaker Gordon Gill of Adrian Smith + Gordon Gill Architecture. Attendees will also have the opportunity to earn continuing education credits and network during a complementary lunch.
"This campaign brings awareness to the public of the ways that Sika helps shape their lives in important and often unseen ways," said Sika Director of Marketing Jeremy Chilton, "Every Day Sika technology helps make stronger, better, and higher quality buildings, public infrastructure, industry applications such as auto glass repair and replacement and solar panels and automobiles."
Please visit SikaEveryDay.com to register or contact Jeremy Chilton for more information: chilton.jeremy(at)us.sika(dot)com
About Sika: Sika is a specialty chemicals company with a leading position in the development and production of systems and products for the building and construction industries as well as manufacturing sector (automotive, bus, truck, rail, building and alternative energies components, etc.) Sika has subsidiaries in 97 countries around the world and manufactures in over 190 factories. Its approximately 17,000 employees generated annual sales of CHF 5.75 billion in 2016. Visit Sika Corporation's website at usa.sika.com and Sika AG's website at http://www.sika.com 
###
Media Contact: Melissa Milostan | 248-598-7217 | mmilostan(at)push22(dot)com
PUSH 22 for Sika USA