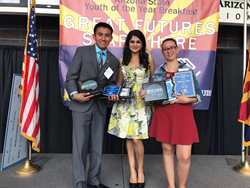 "The TouchPoint Solution is committed to conscious capitalism and is always looking for a way to support our local community and empower youth and families."
PHOENIX (PRWEB) April 13, 2017
The TouchPoint Solution CEO Vicki Mayo gave the keynote address this week at the annual Arizona Alliance of Boys & Girls Clubs Legislative Breakfast. Mayo is a former Boys & Girls Club youth, Youth of the Year and board member.
Mayo encouraged the 12 finalists and nearly 150 Boys & Girls Clubs supporters and state legislators in attendance to remember her cardinal rules of making the ordinary extraordinary, never being afraid to do the right thing and having confidence that everything will work out in the end. She also awarded Buzzies to all 12 finalists.
"The TouchPoint Solution is committed to conscious capitalism and is always looking for a way to support our local community and empower youth and families," said Mayo. "As a former Youth of the Year and a life-long advocate for children, it was especially exciting to be a part of the Youth of the Year event."
McKenzie Jones of Yuma was named Military Youth of the Year and Leonel Cano Leon of Phoenix was named Youth of the Year. Both Jones and Leon are dedicated to serving their communities, overcoming adversity and achieving academic excellence.
The TouchPoint Solution was founded on the five core values of being committed to the cause, valuing people, using efficient problem solving methods, giving back and maintaining a Lean/Six Sigma culture.
About The Touchpoint Solution
Neuropsychologist Dr. Amy Serin and child advocate Vicki Mayo founded The Touchpoint Solution in late 2015 with the mission of bringing relief to the millions of people who suffer from stress and anxiety. Over the last decade, Dr. Serin's work in therapy and neuroscience led to the discovery that a component of successful PTSD treatment could be used as a stand-alone product for a range of individuals whose stress and intensities hamper performance, relaxation, sleep, and their ability to cope with sensory stimuli. Dr. Serin used quantitative electroencephalogram data, existing neuroscientific research, and archival data to quantify significant brain changes after just seconds of use. Dr. Serin recognized that this method was too powerful a treatment to be confined to doctors' offices due to its effectiveness and simplicity and partnered with long-time friend and child advocate Vicki Mayo to bring the Buzzies to the world. For more information, please visit http://www.thetouchpointsolution.com.
About Buzzies
Buzzies are non-invasive, wearable devices that use patent-pending neuroscience technology to relieve stress and anxiety, improve focus, reduce cravings, improve performance, manage anger, reduce sensory overload and better enable sleep. They can be worn on both wrists or can be placed in more discrete locations, such as socks, pockets, etc. Buzzies need to be worn on both the right and left side of the body to be effective. Buzzies officially launched to the public in December 2016 and are available to purchase online at http://www.buzzies.com for $239.