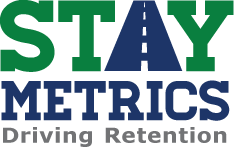 This study offers new insights into the relationship between women's experiences and their propensity to leave a carrier.
South Bend, Indiana (PRWEB) April 18, 2017
Stay Metrics, providers of an evidence-based driver engagement, research, and analytics platform that enables motor carriers to retain more of their best drivers, announces the results of their latest research on the turnover predictors for women drivers.
According to the Department of Labor, women comprise 42.9 percent of the total full-time workforce in the United States but only six percent of the truck driver population. As freight volumes continue to grow and baby boomers retire, the trucking industry must recruit and retain more women drivers to keep up with labor demands.
Stay Metrics administers an annual driver survey on behalf of motor carrier clients and monitors whether drivers leave or stay with the carriers. The researchers analyzed the Stay Metrics Database, including annual survey responses from 12,502 drivers from 78 different carriers. Approximately 9 percent (1,122) of the respondents were women drivers.
Stay Metrics applied its latest predictive driver turnover model to identify correlations between areas of driver dissatisfaction or satisfaction as the case may be, with the known actions of drivers leaving or staying with their carriers.
"We consistently find that women drivers expect to be paid the same, to have equal opportunities, and to be treated with the same level of respect for doing the same job as male drivers," said Tim Hindes, chief executive officer of Stay Metrics. Hindes continued, "This research offers new insights into the relationship between women's experiences and their propensity to leave a carrier."
The model identified these 14 turnover predictors for women drivers, which are listed in descending order of relevance. (Those common to the top predictors for male drivers are #2, 8, 9 and 14.)
Dissatisfaction with the tractor topped the list for women drivers. Concerns about the maintenance department and maintenance frequency were also strong predictors, suggesting a high value that women place on working equipment and avoiding breakdowns.
1. Dissatisfaction with tractor
2. Dissatisfaction with compensation for deadhead miles
3. Dissatisfaction with hours worked
4. Inadequately preparation during orientation for driving at this carrier
5. Lack of respect at carrier's facilities
6. Dissatisfaction with Maintenance Department
7. My work experiences match the expectations I had when I signed up for this job
8. Dissatisfaction with frequency of maintenance done on equipment
9. Dissatisfaction with dispatcher
10. Dissatisfaction with pay
11. Not getting enough miles
12. Dissatisfaction with the respect my carrier shows me
13. Work is not steady enough
14. Desire to switch my dispatcher
Hindes observed, "Dissatisfaction with these 14 items are associated with turnover. Conversely, women drivers who have better experiences in these areas are more likely to stay with their carriers."
"The findings show areas that carriers could improve — or do a better job of promoting — to recruit and retain more women drivers," Hindes continued.
Interestingly, the research suggests that dissatisfaction with dispatchers is less important to women drivers than to men drivers. Just two of the top turnover predictors for women correspond with dispatcher relations, whereas for men dispatchers account for seven predictors.
"The list shows the overall reasons why women drivers will choose to leave or stay with their carriers, but we all know that not all carriers are alike," said Dr. Timothy Judge, Stay Metrics director of research and the Joseph A. Alutto Chair in Leadership Effectiveness at the Ohio State University's Fisher College of Business.
"When applied to individual carrier data, our predictive models deliver important insights on the controllable causes of turnover that are specific to each company," he continued.
Hindes presented some of the results of this research at the Truckload Carriers Association Annual Conference, March 26-29, in Nashville, Tenn., during a panel organized by Women in Trucking (WIT). The panel was moderated by Ellen Voie, President and CEO of the WIT organization.
The Stay Metrics driver engagement platform helps trucking companies engage, reward and keep their best drivers. Carriers see improved driver retention by using a unique custom-branded loyalty rewards program to recognize driver performance, in combination with driver feedback interviews, surveys, and related research. The platform includes a driver communication and resource hub, in addition to safety and wellness training. Stay Metrics is based at Innovation Park at Notre Dame. For more information visit http://www.staymetrics.com