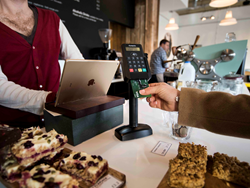 Palo Alto, California (PRWEB) April 13, 2017
Companies are demanding more data around their operations in nearly every aspect of their business, and payments is no exception. As the payments industry shifts from selling commoditized standalone processing to building strategic partnerships and delivering integrated solutions, the need for real time feedback about payments and partners becomes increasingly important. With this in mind, Handpoint is proud to announce its new Analytics Dashboard for ISOs, ISVs and VARs. Partners will now be able to see in real time incredible detail, including the kind of transactions, the locations of transactions, transaction volumes, and other valuable data, in one simple dashboard.
Building on its robust Platform as a Service (PaaS), Handpoint's new Analytics feature is yet another innovation for Handpoint partners looking to aide and grow with their merchant partners. With merchants having more choices than ever, payments professionals and resellers need to understand the ins and outs of their merchants' payments activity to know best what upgrades and upsells to offer.
Handpoint CEO, David Gudjonsson, said: "Launching Handpoint Analytics is yet another step in the right direction toward supporting our core value of partner success. With this feature, we're proving our commitment to not just building better payments experiences, but truly helping people do business anywhere."
Combined with Handpoint's remote terminal management system, ISOs have a powerful toolkit to grow their business. ISOs and processors can identify a merchant's payment trends in the Analytics dashboard, upsell the merchant over the phone, and push an update live to the merchant in a matter of seconds. ISOs can evaluate which sales channels, markets, and verticals are performing best to advance their integrated payments strategy. Customer support professionals can review merchant transactions to identify any issues immediately, and provide remote support, including pushing updates to the card readers in seconds.
Handpoint's Analytics solution covers a wide swath of data with standardized and customizable formats in order to provide the most amount of value possible to our partners. This innovation demonstrates once again Handpoint's deep understanding of the needs of its integrated payments partners. Handpoint's integrated payments platform is utilized by numerous ISOs, processors, acquirers, and ISVs on three continents. To learn more about Handpoint's analytics feature, please visit us at Handpoint.com or contact us today.
About Handpoint
Headquartered in Iceland with offices in the UK and USA, Handpoint offers a cutting edge and innovative Platform as a Service (PaaS) solution to the payments industry. Handpoint has pioneered major innovations in the payments market, including developing easily integrated mobile EMV payments and has won multiple awards for the high pace of innovation in developing their end-to-end integrated payments platform.