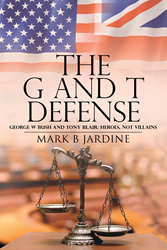 PERTH, Australia (PRWEB) April 24, 2017
Author Mark Jardine has released his controversial revisionist history, "The G and T Defense." This commends former President George W. Bush, and former British Prime Minister Tony Blair, for saving far more lives than they took during wartime.
The book reminds us that Bush and Blair saved at least 9 million people from AIDS- and malaria-related deaths - in Africa; and saved thousands more from death, mutilation, and chaos in Kosovo and Sierra Leone. According to the book, Bush and Blair also justifiably confronted the obvious evils of al-Qaeda, Taliban, and Saddam Hussein's regime.
"We should be mad at the real war criminals and liars in the world: bin Laden, Saddam Hussein, Abu Musab al-Zarqawi and Mullah Omar," says Jardine. "Instead we have seen mainly one-sided outrage at western leaders."
The book provides further evidence that the Afghanistan war saved many more lives than it took, and that it helped more than three million young girls get back into school. According to Jardine, "most of the casualties and deaths in the 'war on terror' were caused directly by Islamic extremists; not Western forces."
"My book also argues that much Western media has misled the public on the issues of lies, the Abu Ghraib controversy, Fallujah, and the real significance of oil," Jardine said. "This has led directly to the widespread and dangerous malaise of Western self-loathing."
"The G and T Defense" is a powerful testimony to the overlooked success of Bush and Blair's terms in office. It offers strong evidence, sure to incite plenty of debate about the Middle East.
"The G and T Defense"
By Mark B. Jardine
ISBN: 978-1483458571 (paperback); 978-1483458564 (e-book)
Available at the Lulu website and Amazon
About the author
Mark B. Jardine has taught history at schools in Zimbabwe, South Africa, Australia, Saudi Arabia and Qatar. His first offering is a confronting revision of the much-reviled foreign policies of George W Bush and Tony Blair. He lives in Perth, Western Australia, and is married to his wife, Coral.
To learn more about the author, please visit his website.
###
Contact:
LAVIDGE – Phoenix
Kalin Batts
480-998-2600 x 524
kbatts(at)lavidge.com