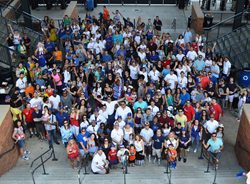 This would not be possible without the exceptional talent we have, both inside and outside the clinics, our employees' commitment to our patients, and their willingness to consistently strive to become even better than they were yesterday.
Uniondale, NY (PRWEB) April 17, 2017
As an organization dedicated to the well-being of both patients and the employees committed to their care, Professional Physical Therapy is proud to announce it has been named one of the country's Best Workplaces in Health Care.
Professional Physical Therapy ranked among the top 25, which is based on surveys from nearly 88,000 employees across the industry, and is the first physical therapy company to make the health care list. The results show that their team members enjoy a supportive work environment with effective communication and trust in leadership.
Employees also expressed widespread pride in their work, which reflects the organization's commitment to exceptional patient care and the strong belief in treating the patient, and not just the injury. Professional recognizes that happy employees create positive work environments and as a result, give our patients the best possible overall experience.
Adam Elberg, Founding Partner, President and Chief Executive Officer of Professional Physical Therapy states, "On behalf of the entire Professional family, I am so incredibly proud that our company has been acknowledged this way. This would not be possible without the exceptional talent we have, both inside and outside the clinics, our employees' commitment to our patients, and their willingness to consistently strive to become even better than they were yesterday. I am truly honored to see our company's name among some of the largest, most prestigious healthcare companies in the entire country, and I can't thank each and every employee enough for their honesty and support in helping us achieve one of our greatest accomplishments to date."
Scott Cooper, Vice President of Human Resources at Professional Physical Therapy adds, "Professional Physical Therapy is first and foremost a people business. Just as many patients return to us because of the exceptional care and experience they receive, employees stay with us because of the mentoring, development and career growth opportunities that set us apart from many other organizations. Our quarterly company outings and philanthropic culture, combined with offerings such as comprehensive benefits, generous time off policies, and continuing education stipend, make Professional a great choice for high performers who want to build a rewarding career. We are extremely fortunate to have a team that embraces this culture and focuses on great patient care and outstanding clinical outcomes."
Research by Great Place to Work has shown that a high-trust workplace culture benefits not only individual performance, but the success of the organization overall. The leading health care workplaces outperformed their peers in a number of important areas, such as training, compensation, clear expectations from management and the emotional health of their workplaces. The top-ranked workplaces are also positive, supportive places, with an average of 93 percent of their employees describing colleagues as friendly and welcoming.
"Confidence in the organization's leadership and day-to-day alignment with its mission are essential in an industry like healthcare, where technology and regulatory frameworks evolve constantly," said Kim Peters, Executive Vice President at Great Place to Work. "The Best Workplaces in Health Care offer great places to work for all, where every employee can pursue the best patient solutions while knowing that they, too, will have their needs met by a caring employer."
The Best Workplaces in Health Care is one of a series of rankings by Great Place to Work and Fortune based on employee survey feedback from Great Place to Work–Certified™ organizations. To see the schedule for all Great Place to Work Best Workplace lists and more information on how to apply, visit Great Place to Work's website.
About Professional Physical Therapy
Professional Physical Therapy, headquartered in Uniondale, New York, is a leading provider of physical and hand therapy and rehabilitation services throughout the New York metropolitan area, New Jersey and Connecticut. Professional is an award-winning organization, most recently honored as the recipient of the 2016 ADVANCE for Physical Therapy and Rehab Medicine magazine's annual Practice of the Year award, and selected based on clinical expertise and exceptional patient experience. Founded in 1998, Professional Physical Therapy operates 116 outpatient physical and hand therapy centers: 12 located within Equinox Fitness Centers, five located in Blink Fitness facilities, one located in a STACK Sports Performance Center, one inside a Golf & Fitness Academy, one inside Chatham Club, one inside Strive Fitness, and 95 standalone.
The company's outpatient physical therapy centers provide treatment to patients suffering from musculoskeletal impairments associated with orthopedic and sports injuries and other medical conditions. Professional Physical Therapy also operates a 20,000 square foot sports performance training facility in Garden City, NY, as well as four fitness centers in Stamford, Wilton, Southport, CT, and Copiague, NY. http://www.professionalpt.com
About The Best Workplaces in Health Care
Published by Great Place to Work and Fortune, the Best Workplaces in Health Care rankings are based on feedback from more than 87,770 employees at Great Place to Work–Certified organizations in health care, including the biotechnology and pharmaceutical sector. Employees completed an anonymous Trust Index© survey, answering questions about how frequently they experience the building blocks of a great workplace. Employees rated leadership strength and integrity, pride in their work and organization, and the quality of relationships with co-workers, among other factors. Results from the survey are highly reliable, having a 95 percent confidence level and a margin of error of 5 percent or less.
Earning a place on this list indicates a company has distinguished itself from peers by creating a Great Place to Work For All™. Rankings reward organizations where not only the majority of their employees experience a great place to work, but these experiences are highly consistent regardless of who people are or what they do within the organization. Results are considered based on the complexity of the employee population and relative to peer performance.
About Great Place to Work
Great Place to Work is the global authority on high-trust, high-performance workplace cultures. Through proprietary assessment tools, advisory services, and certification programs, including Best Workplaces lists and workplace reviews, Great Place to Work provides the benchmarks, framework and expertise needed to create, sustain and recognize outstanding workplace cultures. In the United States, Great Place to Work produces the annual Fortune "100 Best Companies to Work For®" and a series of Great Place to Work Best Workplaces lists, including lists for Millennials, Women, Diversity, Small and Medium Companies and over a half dozen different industries.