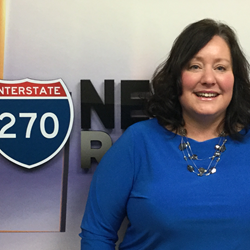 Frederick, Md (PRWEB) April 17, 2017
Science is the secret to elevating any leader's skills from mediocre to extraordinary. Catherine Barton, PhD Candidate, owner of Future Thinking Consulting, is using scientifically based processes to prepare her clients' in MD, VA, PA and DC to surpass their professional future needs. Future Thinking Consulting collaborates with leader-minded people that want hard results. The perfect client has no specific age, gender, or profession because it has more to do with their goals. Ms. Barton currently travels the United States meeting clients face-to-face for intense 1-3 hour uninterrupted coaching sessions that occur 1 to 4 times a month depending on the client's aims.
This type of service gives the leader an edge that is required in today's work arena. When organizations take advantage of this science, they avoid the unnecessary trainings that are available and instead they combine serious coaching + strategic trainings and increase performance. When individuals utilize scientific procedures to strengthen their aptitudes, they are better prepared for professional advancements. Society as a whole could benefit from better cultivated business leaders to ensure America's global presence.
Future Thinking Consulting is a WOSB that is devoted to building companies by building its workforce. The unique approach to leadership development, whether it is an individual or a large group, is client-centered and concentrates on strengths more than weaknesses. The client/coach is expected to partake in straight-forward, truthful dialogues that others may avoid.
The philosophy of the company is to be positive, honest and be willing to challenge oneself by stepping out of your comfort zone. The owner, Catherine Barton, often tells her clients that "they are not allowed to internally talk negatively to themselves because it automatically closes the door for progress." She finds that people set themselves up to fail before they even start and Ms. Barton wants to stop that.
Catherine Barton, PhD Candidate was recently interviewed by WHAG about her tactics towards leadership development. She also ranked 2nd place out of 484 international competitors for a United Nations Challenge that focused on empowering women.