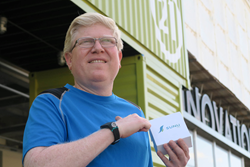 I especially want to show what people with disabilities can do.
Boston, MA (PRWEB) April 14, 2017
Fernando Albertorio is a "serial entrepreneur" who is driven to find new ways to empower the human senses, awareness, and abilities. He's the co-founder of Sunu, Inc., a startup based in Boston and Guadalajara, Mexico, that is creating award-winning wearable technologies for human augmentation. Albertorio is an advocate for entrepreneurs, a Techstars alum, and a former MassChallenge alum-in-residence. Fernando is also legally blind, so he has some experience overcoming limitations.
Sunu's latest wearable tech is the Sunu Band, an award-winning sonar smart-watch with haptic feedback, which gives visually impaired wearers physical feedback on their immediate surroundings. According to Sunu, it "augments human awareness, perception, and enhances the navigation experience" for the visually impaired. Albertorio wants to show what it can do in an especially challenging environment: a crowded road race. So this year, he is running the Blindfold Challenge, at the Boston Athletic Association 5K race held the Saturday before the Boston Marathon, as a member of Team With A Vision (TWAV), using only the smart-watch as his guide.
"I am going to be my own guinea pig," jokes Albertorio, who is legally blind due to albinism. "We have proven the Sunu Band in environments where the wearer is walking outdoors, assisting them in navigating around people and street obstacles, but never running in this concentrated an environment." Normally, visually impaired runners run alongside a tethered guide, who helps them navigate turns, and avoid obstacles like potholes and people. Fernando is going it alone, with only a running partner nearby.
Albertorio currently serves on the board of Massachusetts Association for the Blind (MAB) Community Services. MAB Communities fields TWAV in races like the Boston Marathon, to raise money, and raise awareness that with the right assistance, people with disabilities can accomplish anything.
He is a previous half-marathon runner, though the added challenges and stress of running in crowded races with limited vision discouraged him from continuing his avocation. With the help of his company's product, he is getting back into the sport. His dream is to eventually run the Boston Marathon, so he volunteered to run this year's Blindfold Challenge—with the help of the Sunu Band—and raise funds for MABVI's Team With A Vision. He has already met his fundraising goal.
The Sunu Band combines a sonar (proximity) sensor with precision haptic feedback to improve the user's awareness of objects or obstacles that are within their environment. Sunu Band is a smart, connected device that enables the user to customize its functions. With more than 10 onboard sensors, the smart-watch enhances the user's own abilities and navigation experience. Sunu Band launched in January this year, and the company has already sold out its first two production runs.
"Yes, I do want to show people what our product can do, but I especially want to show what people with disabilities can do," said Albertorio. "We are intelligent, vital people with lives and careers much like your own, only with some added challenges. I want to make those a little less challenging with products like the Sunu Band."
"Fernando is the perfect embodiment of everyone we advocate for," added Barbara Salisbury, CEO of the Massachusetts Association for the Blind and Visually Impaired (MABVI). "He is already an accomplished entrepreneur, and yet he still pushes himself to create the next new innovation, and overcome the next challenge."
2017 will mark the 25th consecutive year in which MABVI has fielded Team With A Vision for the Boston Marathon. The Team's runners come from all over the United States, as well as Canada, France, and the United Kingdom.
To learn more about Team With A Vision, visit mabvi.org/teamwithavision.
ABOUT MABVI:
The Massachusetts Association for the Blind and Visually Impaired has been creating opportunities for people with vision loss since 1903. Their experience allows them to forge strong community partnerships to meet the pressing need for high quality services, and transform lives. Visit mabvi.org to learn more.
ABOUT SUNU, INC.:
Sunu Inc is a technology company based in Boston and Guadaljara, Mexico, founded by Marco Trujillo, Cuauhtli Padilla, and Fernando Albertorio. Sunu's mission is creating technologies for human augmentation that empower the senses and enhance our abilities. Sunu is producing an award-winning sonar smart-watch called Sunu Band.
Sunu, Inc. was recently featured in Shark Tank, Mexico, and is the winner of the 2014 MassChallenge Gold Award, the Perkins Assistive Technology Prize, the 2015 LATAM Concordia XCala Prize, and Boston MedTech 40 under 40.