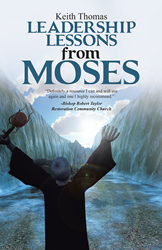 OKLAHOMA CITY (PRWEB) April 24, 2017
Author Keith Thomas reveals the keys to great leadership in "Leadership Lessons from Moses," a biblically-based book that helps readers harness their God-given leadership abilities.
The book depicts the humanity of biblical leaders such as Moses, and helps readers relate it to today's society. It gives practical insights that will allow readers to move into a more intimate relationship with God, their family and their following.
Thomas wrote the book to encourage readers to talk about difficult situations leaders may face. "When I ask a group of leaders how they might respond to certain situations, they usually are slow to respond," he said. "When I ask that same group how Moses might have responded, I receive a lot more input that way."
Thomas believes that it does no good to fit leaders into a mold. "I wrote this book to let people know that they don't have to change themselves to be good leaders," said Thomas. "They have the ability within themselves to lead the way they see fit."
Overall, "Leadership Lessons from Moses" will help its readers step fearlessly into a leadership position, ultimately growing in their faith and helping others achieve personal growth.
"Leadership Lessons from Moses"
By Keith Thomas
ISBN: 978-1512772654 (hardcover); 978-1512772630 (softcover)
Available at Thomas's website, WestBow Press and Amazon
About the author
Keith Thomas served as senior pastor of Abundant Love Fellowship for 13 years, and has served as President of Abundant Love Ministries for 25 years. He has a Masters of Biblical Studies from Clarion Bible School, and is a graduate of Southern Nazarene University. Thomas and his wife, Judy, live in Oklahoma City, Oklahoma.
To learn more about Thomas, please visit his website.
###
Contact:
LAVIDGE – Phoenix
Kalin Batts
480-998-2600 x 524
kbatts(at)lavidge(dot)com