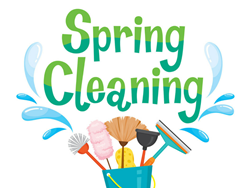 Fresh Tech Maid has some simple tips that will make spring cleaning a breeze!
Chicago, IL and Arlington Heights, IL (PRWEB) April 14, 2017
Yes, spring is in the air! The sun is shining. The birds are chirping. The temperature is rising. And, now it's time to get your home in tip top shape for spring! But, where do you begin? Don't let the thought of spring cleaning overwhelm you. Wells Ye, owner and founder of the award-winning Fresh Tech Maid, voted one of the best house cleaning services in the Chicago area, has some simple tips that will make spring cleaning a breeze!
Prioritize
Before jumping in without a plan, walk through your home and take note of which areas need more attention than others. Once you've done this, make a set cleaning schedule to address the messiest parts of your house first and then commit to specific days to clean. You'll definitely want to spend the most energy on the rooms that need the most love! Spring cleaning can be stressful when you think of tackling your entire house. By taking baby steps and cleaning room by room, you'll feel a true sense of accomplishment when each room is fresh and clean!
Don't Be Intimidated
Yes, it's true. Some rooms are definitely more difficult to clean than others, but don't be intimidated or discouraged! Have a plan and be realistic with what you can accomplish. Consider using a spring cleaning checklist like the one provided on the Fresh Tech Maids website, https://freshtechmaids.com/, so you can stay organized and feel in control. With a little extra work and careful planning, you can get your home sparkling clean in no time.
Get Your Ducks in a Row
Having the right tools and products for spring cleaning is just half the battle. Before taking on your spring cleaning list, it's important to make sure that you have all the right supplies such as cleaning cloths, cleaning solutions, an extension duster (for cleaning the tops of all those hard to reach nooks and crannies), a vacuum, and several scrubby sponges. To keep things in order, consider investing in a plastic light weight caddy. By keeping your supplies in a caddy, you will have everything you need as you go from room to room. This will save you time from running back and forth to gather supplies and will keep you organized and focused on the tasks at hand.
Load Up Your Caddy
Wells Ye suggests having two different caddies for your house, as this will help you have the right supplies ready for each room. Label one of your caddies a "wet room" and the other caddy a "dry room." The wet rooms are your kitchen, bathrooms, and utility room. The dry rooms are your bedrooms and living areas. Items to have in stock for your wet room caddy include cleaning cloths (microfiber or cotton rags), cleaning solutions, dusting cloths or extension dusters (for the tops of cabinets and/or your ceiling fan), scrubby sponges for hard to remove build up, magic erasers, and a toilet brush. As for the dry room caddy, you should have microfiber cleaning cloths, an extension duster, and various cleaning solutions such as furniture polish, floor cleaner, and glass cleaner. For all rooms, you should have a broom, a dustpan, a feather duster, a vacuum and a bucket and mop as needed.
After following these tips, you're ready to jump in and start spring cleaning, right? Not yet? If you're feeling overwhelmed or you can't seem to find the motivation to start, no worries! Let the clean freaks Chicago professionals handle it. Schedule a cleaning with Fresh Tech Maid Services, the top house cleaning service in Chicago today! For deep cleaning service Chicago and apartment cleaning Chicago, please visit https://freshtechmaids.com or call 847-392-0888.