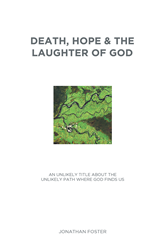 KANSAS CITY, Kan. (PRWEB) April 24, 2017
Author and pastor Jonathan Foster has released his sophomore book, "Death, Hope and the Laughter of God," which walks readers through grief and loss. The book uses examples of Foster's coping methods he used to grieve the death of his daughter, Quincy.
In the book, Foster explains the central message of going through loss, not around it. Readers will learn how to tackle their loss head-on, and develop the tools to live with it. Foster's paradigm states loss is not something people can fix, but something they must learn to carry with them throughout their lives.
One major theme in the book is the idea that God does not abandon people through hard times. Conversely, he finds them through the worst. "I don't think anyone really knows why bad things happen to anyone," said Foster. "I think the purpose might be that in darkness, we realize God is searching for us, and that's what he has always done."
To honor Quincy's goal to become a medical missionary in Haiti, Foster founded LQVE, a nonprofit organization focused on building structures in Haiti, and providing healthcare to impoverished Haitians. "My friend gave me a t-shirt with the name LQVE on it," Foster said. "As soon as I realized its meaning, Q for Quincy, I knew I had to do something with this name."
"Death, Hope and the Laughter of God," along with Foster's personal story, will touch and challenge anyone who has experienced loss in any way.
"Death, Hope and the Laughter of God"
By Jonathan Foster
ISBN: 978-1512770988 (hardback); 978-1512770971 (paperback)
Available at the WestBow Press website and Amazon
About the author
Jonathan Foster is the award-winning author of "Where Was God on the Worst Day of My Life."
He is a pastor of Mission Church, and the curator of LQVE, a nonprofit serving Haiti. Foster travels the country, giving speeches about his experience and coaching others through personal loss. Foster lives in the greater Kansas City area and is married to Johnna; together they have three children: Quincy, Shay, and Evan.
To learn more about Foster, please visit his website, Twitter and Facebook. To learn more about LQVE, visit the organization's site.
###
Contact:
LAVIDGE – Phoenix
Kalin Batts
480-998-2600 x 524
kbatts(at)lavidge(dot)com