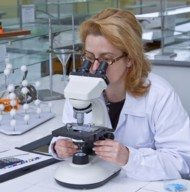 Our work shows that [these factors]... are significantly associated with a better median overall survival in epthelioid mesothelioma.
Raleigh, NC (PRWEB) April 15, 2017
Scientists at a French university have identified a list of cellular characteristics they say can help determine prognosis in people with the epithelioid subtype of malignant pleural mesothelioma. Surviving Mesothelioma has just published an article on the new research. Click here to read it now.
Doctors at the University Hospital of Saint Etienne studied the cases of 116 pleural mesothelioma patients to come up with six factors that may have a bearing on mesothelioma survival.
"Our work shows that mitotic count <3/10 HPF, the lack of necrosis, mild nuclear atypia, the lack of atypical mitoses, a nucleoli size <3 μm and a nucleoli absent or visible at 200× or higher magnification are significantly associated with a better median overall survival in epithelioid mesothelioma," writes lead author and pathologist Cyril Habougit.
The report in the international medical journal Virchows Archiv suggests that the information can be used to help further sub-divide people with the epithelioid mesothelioma subtype to more effectively target their treatment.
"Until now, subtype was the only widely accepted way to predict mesothelioma survival using pathology," says Alex Strauss, Managing Editor for Surviving Mesothelioma. "If this understanding can help doctors target mesothelioma therapies, it could potentially save lives."
To read more about histopathology and its role in mesothelioma survival, see Cellular Factors Predict Survival in Epithelioid Mesothelioma Patients, now available on the Surviving Mesothelioma website.
Habougit, C, et al, "Histopathologic features predict survival in diffuse pleural malignant mesothelioma on pleural biopsies", March 27, 2017, Virchows Archiv, Epub ahead of print, https://link.springer.com/article/10.1007/s00428-017-2109-z
For more than a decade, Surviving Mesothelioma has brought readers the most important and ground-breaking news on the causes, diagnosis and treatment of mesothelioma. All Surviving Mesothelioma news is gathered and reported directly from the peer-reviewed medical literature. Written for patients and their loved ones, Surviving Mesothelioma news helps families make more informed decisions.