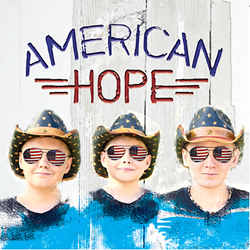 "We all have a special place in our hearts for first responders and the help they give us every day" Jameson Hope, Lead Singer and Songwriter of I'll Be There
Atlanta, GA (PRWEB) April 17, 2017
Rising country band American Hope have released their first-ever music video for the song "I'll Be There" from their 10-song, self-titled debut album, which premiered back in the fall of 2016. Directed and produced by Alison Owen of Brownhouse Entertainment, the video is now available on the band's YouTube channel and website. Listen to the song and full-length studio album on iTunes, Amazon, and Spotify.
The band's lead singer, 15-year-old Jameson Hope, wrote "I'll Be There" in 2015, and the band recorded the song late last year. When they began thinking about creating a music video, it was important to them to show the hard work of first responders. Working with Alison Owen, they developed a video that featured the men and women in uniform that serve their communities every day. According to the band, themes like this support what they value as musicians. They care about spreading positive energy in each of their songs. Even the band's name, Jameson Hope explained, was chosen not only because of their last name, but also because it reflects the hope they want to bring to their listeners through their music.
The video was filmed in Fort Payne, AL, home of country music group Alabama. Randy Owen of the group Alabama has been very formative for each of the American Hope brothers—which also include 13-year-old Jadyn and 12-year-old Kenyon. The video features various first responders, including representatives of the U.S. Army, local firemen, police officers and sheriffs department.
American Hope has opened for Alabama numerous times at Randy Owen's Fandemonium on the Farm fan appreciation events, as well as his Dixieland Delight Cattlemen Events. They have also performed with Lee Greenwood and opened for Lisa Kelly, former lead singer of multi-platinum recording group, Celtic Woman. Randy Owen spoke about the boys' talent during an interview on Suzie Q Luther's morning radio show on Q97.3/99.3; this recording is available on American Hope's homepage. The band also gets radio play on American Veterans Radio, It Matters Radio, and various independent internet stations.
For more information about upcoming performances, keep an eye on the band's website and Facebook page, or visit their ReverbNation site. As the band plans to begin recording their second album this fall, they expect to perform much more within the next year. Future performances include:

April 22 – Opening for Lisa Kelly's "Voice of Ireland" Concert – Frederick Brown Jr. 'The Fred' Amphitheater, Peachtree City, GA
April 28 – Acoustic Showdown (the finals) — Tin Roof Cantina, Atlanta, GA
April 29 – Paulding Spring Fling — Silver Comet Airport, Dallas, GA
May 13 – Private Event – Jackson, MS
Keep up with American Hope on their website, Facebook, Twitter, ReverbNation site, and YouTube channel.
Media Contact:
For media inquiries, contact Jeff Hope by phone at (404) 394-5919 or via email at info(at)americanhope(dot)com.
About American Hope
Formed when they were just six, five, and four years old, 15-year-old Jameson Hope (guitar & lead vocals), 13-year-old Jadyn Hope (bass guitar & vocals), and 12-year-old Kenyon Hope (drums) make up country music group American Hope from Atlanta, GA. Over the last eight years, these three brothers have become talented songwriters and musicians, with the guidance of their family, vocal coaches, instrument instructors, and fellow songwriters/singers like Randy Owen, Lee Greenwood, and Lisa Kelly.
American Hope draws inspiration from successful musicians like Keith Urban, Alabama and Florida Georgia Line. Their music reflects these influences, with some pop and rock songs mixed in with classic country ballads. The boys can handle their instruments, as well as their audience. Their first live show was for 2500 people, and they have continued to wow spectators in musical showdowns and festivals throughout Georgia and Alabama with their vibrant, emerging talent. The band's first self-titled album, recorded at Reveal Audio in Marietta, GA, debuted in the fall of 2016. American Hope plans to record this year and are choosing songs from their abundant inventory to feature on the new album. You can find their latest work on their website, iTunes, Spotify, and Amazon, or look for them live at one of their upcoming shows.