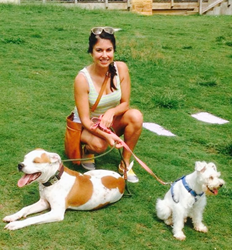 San Antonio, TX (PRWEB) April 14, 2017
Pet Wants San Antonio on Broadway, a new local pet food and supply shop in downtown San Antonio, is hosting a grand opening party Saturday, April 22, from 9am to 4pm. The party will be at their new location at 5005 Broadway near Central Market.
The Pet Wants San Antonio on Broadway Paw-Changa! will include DOGA (Dog YOGA) with Mindful Warrior Yoga from 9am to 10am and an adoption event from noon to 4pm with Cibolo Rescue, In Dogs We Trust, and Service Dogs Express. There will also be an all-day Fiesta Pet Costume Contest. Pet Wants San Antonio on Broadway is locally owned and operated by Julia Gonzalez and Oscar Zuleta.
"We are so excited to be launching Pet Wants of San Antonio on Broadway, which is why we decided to throw a party for our grand opening. This is such a pet-friendly city and we know people are going to love having easy access to our fresh, high-quality pet food and great products," Gonzalez said
Pet Wants' carefully developed proprietary pet food is slow-cooked in small batches with fresh, high-quality ingredients once per month, so every kibble is guaranteed to be fresh and packed with nutrition. In addition to the multiple formulas of dog and cat food available, Pet Wants San Antonio on Broadway offers healing salve, calming balm, anti-itch spray, paw wax and much more. All Pet Wants products are available at the store and through free, personal delivery throughout San Antonio and the surrounding communities.
The journey to opening Pet Wants all started when Gonzalez moved downtown three years ago with her two miniature schnauzers.
"My dogs had been raised in the suburbs and it was a big change when we moved downtown. It was a great turning point for them – San Antonio is so pet friendly and they really learned to be social dogs with Riverwalk walks, doggy parks and pet-friendly restaurants," Gonzalez said. "It seems like most downtown urban dwellers have pets instead of kids, but there's no local pet supply store downtown. I started doing some research and, when I found Pet Wants, I knew it would be a perfect fit for this community."
Her older schnauzer passed away, so now Gonzales and Zuleta have their younger schnauzer, Casper, and a one-year-old boxer/pitbull mix named Apollo, who Casper picked out from a local rescue.
In addition to being made fresh monthly, Pet Wants only sources the best salmon, chicken, lamb, brown rice and other ingredients available. There's no sugar added, no fillers and no animal by-products and Pet Wants never uses corn, wheat, soy or dyes, which makes the food great for animals with allergies.
"We believe in Pet Wants – we've seen pets pick around other top-brand foods to get to the Pet Wants kibble – and we know our food can help pets live longer, healthier lives," Gonzalez said.
Pet Wants originally launched in Cincinnati in 2010. Owned by Michele Hobbs, the business was built to provide proprietary crafted, fresh, slow-cooked, high-quality pet food delivered to customers through a retail store and a convenient home-delivery service. Hobbs, now the company founder, turned the business into a franchise in 2015 with the help of Franchise Funding Group, an investment and franchise-development company designed to help entrepreneurs scale their companies nationally as franchise systems.
To learn more about Pet Wants or to get a free pet food sample, stop by the store at 5005 Broadway, call (210)769-6994, email JGonzalez(at)PetWants(dot)com or visit http://petwantssanantonio.com/.
About Pet Wants: Pet Wants was started by Michele Hobbs out of love for her pets and frustration. Veterinarians were unable to help relieve her dog's painful skin allergies. After doing much research, Michele discovered the national dog food brand she trusted was not fresh and lacked sufficient nutrition and, when pet food sits in warehouses and store shelves for months and months, it loses even more nutritional value. She was committed to developing a better solution for all dogs and cats. Pet Wants food is exclusively crafted – fresh, healthy, and slow-cooked with no sugar added, no fillers, and no animal by-products. Pet Wants sources only the best salmon, chicken, lamb, brown rice, and other ingredients. Fresh ingredients make for better food, which translates into better health for pets. And, since Pet Wants never use corn, wheat, soy or dyes, the common pet health problems associated with these ingredients are no longer worries. Pet Wants fresh food is conveniently delivered to the customer within weeks of production, not months. Learn more at PetWants.com.