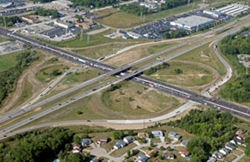 This heavily traveled route had one of the highest crash sites in Ohio. Not only does the project improve safety, it provides the transportation infrastructure needed for future growth. - Lynn S. Miggins, P.E., President of KS
Elyria, Ohio (PRWEB) April 17, 2017
KS Associates, Inc., a civil engineering, transportation engineering, and surveying firm located in Elyria, Ohio, has won the 2016 Outstanding Transportation Project Award from the American Society of Highway Engineers (ASHE) Lake Erie Section. KS Associates' project, the LOR-57-19.42 Corridor Improvement Project, received the award due to its complexity, innovation, and benefit to the traveling public. KS Associates served as the lead engineering consultant, under contract with the Ohio Department of Transportation (ODOT) District 3. The construction contract was awarded to Karvo Paving Company.
The LOR-57 Corridor Improvement is a $22 million transportation infrastructure investment aimed at improving safety, reducing congestion, and stimulating economic development along the Midway Mall Business District in the City of Elyria, Ohio. The improvement commences at SR- 57 and the Ohio Turnpike and extends north to the I-90 interchange with SR-57. This long-term project widened SR-57 from two to three lanes in each direction; added signalized intersections at Midway Boulevard and Griswold Road; removed the 49th Street Bridge, which confused travelers entering and exiting SR 57; and replaced loop ramps at I-90 with a full-diamond interchange. The project required a complex Maintenance of Traffic (MOT) scheme and was one of the first projects in the State of Ohio to use a radar detection system with adaptive signal timing.
According to Lynn S. Miggins, P.E., President of KS Associates, "This heavily traveled route experienced a high incidence of accidents and had one of the highest crash sites in Ohio. In addition, the original configuration made it difficult for travelers to access Midway Mall and retail establishments on the east and west sides of SR-57. Now constructed, the project has improved safety, drivers can easily enter and exit SR-57 without having to wind their way around to and cross the 49th Street Bridge, and the City of Elyria has the transportation infrastructure it needs to create an opportunity corridor for future growth."
According to Ryan Smalley, P.E., a volunteer member of award selection committee, "This year's competition was the most competitive to date, with four competing projects. None matched the level of complexity and innovation displayed in the LOR-57 project."
About KS Associates, Inc.:
KS Associates is a civil engineering, transportation engineering, and land surveying firm that provides planning, design, and construction phase services related to public infrastructure projects. KS Associates specializes in the areas of transportation, potable water, waste water and storm water; coastal engineering services; site development engineering services for institutional, commercial, and residential uses; land surveying and mapping services; and 3D laser scanning services. For more information visit: http://www.ksassociates.com.
About the American Society of Highway Engineers, Lake Erie Section:
The American Society of Highway Engineers (ASHE) is a non-profit organization with a mission to "provide a forum for members and partners of the highway industry to promote a safe, efficient, and sustainable transportation system through education, innovation, and fellowship." The organization has more than 6,000 members and operates 40 sections in nine regions throughout the United States. The Lake Erie Section is one of six sections that comprises ASHE's Great Lakes Region. The Lake Erie Section serves suppliers, contractors, engineers, community leaders, and those associated with the highway industry within the Greater Cleveland, Ohio, area. For more information visit: http://lakeerie.ashe.pro/