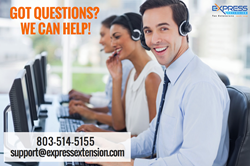 ExpressExtension provides clients with an easy-to-use, online platform to create a personal tax extension form
Rock Hill, SC (PRWEB) April 17, 2017
Created by SPAN Enterprises, ExpressExtension is an IRS-authorized, e-file provider leading the market for various tax extension forms including Form 4868. With the April 18 deadline quickly approaching, clients can now use a more simple and secure way to complete and transmit either single or joint 4868 forms to extend their filing deadlines for personal income tax returns. Professional tax preparers can take advantage by transmitting extensions for multiple filers.
ExpressExtension provides an easy-to-use, online platform to create a personal tax extension form and enter basic tax information. The entire e-file process streamlines with simple interview-style questions and directions that guide you step by step through the 4868 extension form.
Submitting tax extensions is fast and easy with the time-saving features from ExpressExtension. Review filing summaries with the built-in audit check to ensure no errors or mistakes before transmitting to the IRS. Receive real-time email notifications regarding the filing status of your extension form. Print a copy of the completed Form 4868 immediately after submission and even re-transmit rejected forms if necessary.
E-filing personal tax extension forms with ExpressExtension is even easier while on the go! Download the free Express 4868 mobile app for your favorite iOS or Android device and experience the versatility of transmitting an extension form anywhere at any time. The app offers the same great, streamlined features guaranteed to have your filing complete and submitted in just minutes.
ExpressExtension shines best with its competitive pricing and tax industry knowledge. Clients can have access to the US-based customer support for any questions about e-filing and filing status, or for any assistance with the e-file process. ExpressExtension ensures the protection of client information by using advanced web securities to safeguard filing details.
Come experience why ExpressExtension is the most preferred service on the IRS list of e-file providers. Transmit your 2016 Form 4868 before midnight local time on April 18 to receive an automatic 6-month extension to file personal income taxes.
About SPAN Enterprises:
Founded and based in Rock Hill, South Carolina, SPAN Enterprises continues to lead the market in software solutions and mobile applications specific to IRS tax e-filing. The products produced by SPAN Enterprises offer tax e-filing solutions for various information returns such as Form 1099/W2 at ExpressTaxFilings.com, Heavy Vehicle Use Tax Form 2290 for transportation professionals at ExpressTruckTax.com, and tax extension applications at ExpressExtension.com. SPAN Enterprises offers 100%, US-based customer service via phone, live chat, and 24/7 email support.