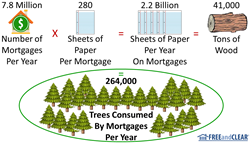 The thought-provoking FREEandCLEAR.com study illustrates that mortgage documentation is as tough on the planet as it is on borrowers
San Diego, CA (PRWEB) April 19, 2017
FREEandCLEAR.com, a leading mortgage website, released an insightful study that quantifies the impact that mortgage paperwork has on both borrowers and the environment. Although the connection between mortgages and Earth Day may not be obvious, the ramifications of mortgage document overload are significant for borrowers, lenders and the planet.
The analysis outlines the over fifty documents representing hundreds of pages that borrowers may encounter over the course of the mortgage process. Given this sea of documents, it is no wonder that borrowers find paperwork to be the most challenging part of the mortgage process. The study also addresses how the volume of paperwork and pressure to close creates challenges for borrowers who may not fully understand the documents they are asked to review.
The massive amount of mortgage paperwork has a profound toll on the environment as well. With almost eight million mortgages a year and hundreds of pages per loan, the U.S. mortgage market consumes almost 2.2 billion sheets of paper annually which is equivalent to over 260,000 trees.
Paper production also involves considerable energy consumption and generates significant greenhouse gas emissions. The FREEandCLEAR analysis shows that producing mortgage paperwork requires over 41,000 tons of wood, 358 million BTUs of energy and generates nearly 62 million pounds of greenhouse gases. The thought-provoking study illustrates that mortgage documentation is as tough on the planet as it is on borrowers.
The analysis also reviews potential solutions to this challenging issue although it is clear there are no easy answers. You can view the full study on FREEandCLEAR.com.
"Borrowers frequently express how overwhelmed they are by the sheer volume of mortgage paperwork," said FREEandCLEAR Co-Founder Michael Jensen. "In recognition of Earth Day we wanted to explore the environmental side of the issue and the results were eye-opening."
The study results have important ramifications for both the mortgage industry and the environment. "Mortgage document overload is a big challenge but also a tremendous opportunity. If lenders and regulators work together the benefits for both borrowers and the planet could be huge," said Jensen.
About FREEandCLEAR
FREEandCLEAR is a leading mortgage website that offers free tools and resources that empower people to find the mortgage that is right for them. FREEandCLEAR was developed by a father and son team who are on a mission to help people make better decisions and save money when they get a mortgage. Our valuable resources and mortgage rate tables put borrowers in control of the mortgage process and enable them to easily shop for a mortgage.