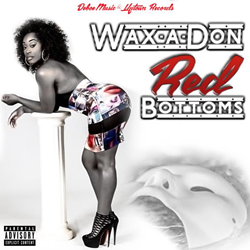 Rockford, IL (PRWEB) April 17, 2017
Wax'A'Don is neither a rapper nor a singer, but a high powered artist with a powerful message to share. Today, he released his latest mixtape project, "Red Bottoms". The album features 17 tracks and includes appearances by Reese G, Vidal Garcia, Boney Blood, and more. "Red Bottoms" is currently available to stream and download on Coast 2 Coast Mixtapes.
Wax'A'Don is most known for his unique, crafty play on words and his quick tongue. Currently one of the top up-and-coming artists in the hip-hop world, Wax'A'Don just released the hot new single "I Want U" and is sure to follow up that hit with his new album Red Bottoms. While most fans have just recently discovered his talent, Wax'A'Don is not new to the game and his musical journey began at a very young age.
Drawn to anything related to music, Wax started dancing at 7 and was embracing the musical limelight in no time! At age 9, he was performing live before more than 100 people, beatboxing while his friend rapped and at 14 he had choreographed his first dance show. As time progressed and his musical interested grew, Wax never lost his love for dance.
When he was 16 years old, a choir teacher who saw his potential made Wax enter a talent contest by refusing to give him a grade if he didn't go. He won second place in the contest and although he never intended to sing, the truth is that nothing got Wax'A'Don more charged and determined than an instrumental and a mic. With a mic in hand, Wax felt that anything was possible!
Wax kept that mic in hand and continued to rap for years but never took it serious till a friend brought his reality to light with the question "Have you ever lost a battle, 'cause I've never seen it?" and with that, a musical career was sparked! A challenge from another friend stating that Wax'A'Don would never make it in that industry without people seeing what he looked like, the car he drove, the clothes he wore, the things he had is what prompted the mask. Many people fear the mask Wax'A'Don wears stands for anything but good, but that is far from the truth. The friend that told him that the people wouldn't like his music if he didn't fit in with the industry's "image" passed away some years ago, but before he did Wax promised him that he would achieve success in that industry and that they'll know what he looks like when he gets there. So Wax wears the mask until he makes it to the top. He wears the mask for that friend and for everyone else who's ever wanted to make it and if anyone can pull it off it's Wax'A'Don
About Coast 2 Coast Mixtapes:
Coast 2 Coast Mixtapes are the most widely distributed mixtapes in the world, with over 100 million downloads/plays generated by over 300 volumes officially hosted by major artists. Coast 2 Coast has a solid reach in the new music industry with a digital magazine, DJ coalition, industry tips blog, yearly convention, and more. Coast 2 Coast Mixtapes represents a unique opportunity for artists of all urban genres, from major to indie. For more information, visit http://www.coast2coastmixtapes.com