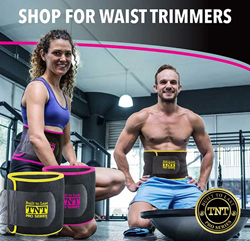 "I love this waist trimmer. I have lost 30 pounds I wear it everyday. I have nothing bad to say about this product. I want to order the arms/ thighs trimmers next." Shaquoya
(PRWEB) April 20, 2017
Interested in losing more weight around the midsection during exercises? The TNT Pro Series waist trimmer's have a specially designed neoprene rubber that will not only insulate more of the generated heat in the targeted regions of the body but will also help burn more calories and shed more weight during an intense exercise. The new belt and largest size goes up to 10.5" wide and 65" long.
The United States has one of the highest obesity rates in the world making it a no brainer to understand why weight loss is the most popular health and fitness goal. Many struggle going through fad diets and inconsistent exercise routines, but to truly see results in weight loss requires patience and perseverance. Skip the frustrating cycle of weight gain and weight loss and rather focus on lifestyle changes to improve overall health. One of the biggest factors in shedding weight and burning fat is increasing the metabolic rate during exercising-- even while at rest. Here is the best way how.
Muscle Magic
To boost resting metabolic rate, build muscle! Skeletal exercises using weights or body weight should always be part of a fitness routine. Muscle mass burns three times as much energy as fat, so the more muscle mass the more calories burned over time, even while at rest. The number 1 way to amp up and improve the metabolism is to increase muscle mass. Target the chest, back and legs at least 2-3 times weekly, training with weights or simply using body weight. Now, since muscle weighs more than fat, body weight may not change much so don't worry about what shows up on the scales. Actually building a denser, healthier body is what's important. Within 3-7 weeks serious results will become evident and potentially clothing sizes will drop.
If possible, spread out meals throughout the day to 4-7 times. This keeps the metabolism going and is an excellent way to maintain the body in a non-fat storing condition. When the body goes for long periods without food, its response is to store fat as soon as it can through carbohydrates, protein or fat, so keep this in mind when deciding to skip three square meals.
Ditch the scales.
One of the worst indicators of the body's makeup is the scale and what's worse, weighing on scales frequently can harm self esteem and confuse people from sticking it out and seeing real progress. Someone can be very fit and muscular but a scale could tell them that they are actually overweight! Scales cannot measure the ratio of muscle mass to body weight, most don't even give a BMI (body mass index.) Scales simply cannot shed much light on health, whether it be physically or individually as a person with thoughts, feelings and emotions. There are better, more reliable and even healthier ways of measuring progress such as documenting feeling better and more energized in a fitness journal, or by something as simple as dropping a dress/trouser size. These methods will help motivate too. Boost self esteem and focus on all the positives instead of letting the scales steal away from progress.
Explore out of comfort zones.
There is no question that what works well for one person will not necessarily work for another, as we are all unique people. It will take time to find whats encouraging and keeps one courageously moving forward to a happier and healthier way of life. Don't be afraid to try new things and step out of comfort zones. This is where the magic always happens. Try a few different fitness classes, gyms, and nutrition programs that cater to health or weight loss goals; seek out what fits best and enjoy the fitness journey as much as possible.
Workout gear can actually assist by helping to utilize fat burning potential when exercising... TNT Pro Series is leading the way in enhancing the thermogenic effect of exercise by producing high quality innovative exercise gear aimed towards increasing the amount of heat generated in the body during each workout.
Here is how TNT Pro Series can help:

Innovative products help increase sweat, heat, and in turn fat loss. By increasing core body temperature, the metabolism also increases, which raises the amount of calories burned during exercise.
The technology behind the belt and slimmers puts the targeted regions of the body into their own personal hot sauna just by putting them on.
The secret is in the special heat generating neoprene rubber used on the inside of the belt, which helps trap body heat and transforms the metabolism into a fat burning machine.
Products such as the TNT Pro Series waist trimmer and TNT Pro Series body wraps are the first of their kind that include anti-slip grid technology to prevent slipping, bunching and moving, along with 6 different sizes to fit any body type.
Each product is produced with superior craftsmanship and individually inspected for the smallest imperfections using the most strict quality control standards in the industry. This ensures that products will last long and provide customers with a great overall experience.