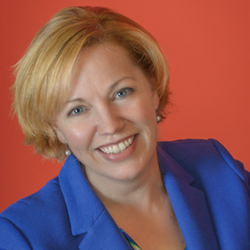 Wow! This is incredible international recognition for our mighty team of marketers at the University of Calgary.
Parker, Colo. (PRWEB) April 17, 2017
Educational Marketing Group, Inc. announced today that Kim Lawrence of the University of Calgary has been selected as the Eighth Annual International Brand Master – and the first-ever from Canada. The International Brand Master (IBM) award is the culmination of a rigorous seven-month competition for top honors among educational marketing professionals. The prestigious honor is presented annually for exemplary brand-marketing efforts that have achieved outstanding results or recognition on behalf of an educational organization.
Lawrence is Associate Vice-President, Marketing at the University of Calgary, one of Canada's premier public research universities and one of the top 200 institutions worldwide, with more than 250 academic programs and enrollment of approximately 24,000 undergraduates and 6,000 graduate students.
Lawrence is the architect of the university's first-ever multi-year, multi-channel marketing strategy, geared at enhancing the institution's brand and reputation. Now in her position for 5 years, she has led the development of UCalgary's comprehensive visual identity system and forward-looking brand platform, built award-winning digital experience and creative solutions teams, and championed a sophisticated national marketing campaign that is effectively engaging multiple
target audiences in the university's research advancements. Results to date include a 23% jump in likelihood to recommend UCalgary between 2013 and 2016.
Lawrence and her team have made major strides in unifying marketing efforts across campus, anchoring faculty and unit plans with an overarching institutional direction and bringing dozens of members together through a monthly Marketing Council.
"Wow! This is incredible international recognition for our mighty team of marketers at the University of Calgary," said Lawrence. "I am so proud of what we have been able to do together in a short period of time and am very grateful for the support we have had in doing it. Being selected from the company of such high-calibre marketing professionals from around the world is truly humbling."
According to competition judges, Lawrence demonstrated "extraordinary brand leadership and the uncanny ability to differentiate through engaging stories and innovative tactics to achieve outstanding results," said IBM coordinator Travis Brock.
"In a landscape where it is often difficult to distinguish one university from another, we are building a presence that is distinctly ours," said Diane Kenyon, Vice President of University Relations at UCalgary. "Under Kim's leadership, our marketing team is making a tremendous contribution to propelling the university to a position as one of the most preferred Canadian postsecondary brands."
Lawrence competed in a field of top marketing candidates from around the world including the U.S., Canada, Australia, England, and Vietnam. The IBM winner was chosen by a combination of a blue ribbon panel of six experienced education-marketing professional judges, and voting by professionals and brand stakeholders throughout the world.
She was selected over two other exceptional finalists: Will Kopp, Chief Communications Officer at Ohio Wesleyan University (Delaware, Ohio) and Paul Mylrea, Director of Communications at the University of Cambridge (Cambridge, England).
"It is gratifying to honor a professional of such outstanding ability. Her incredible leadership and breadth of marketing expertise made her stand out among the competition," said Bob Brock, President of Educational Marketing Group of Parker, Colo., sponsor of the annual competition.
KIM LAWRENCE BACKGROUND
Kim Lawrence has more than 25 years' experience in the marketing and communications field, covering the private and public sectors, both in Canada and internationally. From her early career learning the marcom ropes on the ground in Thailand; to subsequent immersion in the dynamic high-tech start-up space in Canada, Israel and the U.S.; and then a transition into the postsecondary sector, Kim is a firm believer in structured brand ecosystems and an integrated approach to marketing – no matter how complex or dispersed the organization.
Kim joined the University of Calgary in September 2010, having transitioned to the Alberta postsecondary education sector from University of the Fraser Valley in British Columbia's lower mainland. Prior to that, she worked with both privately and publicly held companies such as Eastman-Kodak and Creo Inc. (graphic arts technology), and MacDonald Dettwiler/RADARSAT International (satellite remote-sensing technology).
The University of Calgary drives nearly $8 billion in economic impact to its host province of Alberta. Within one of the most entrepreneurial academic environments in the nation, Kim's portfolio includes marketing strategy and positioning (including advertising), brand and identity, digital experience (including web and social channels), and creative solutions. She also led the university's 50th Anniversary celebrations in 2016-17.
A graduate of Queen's University in Kingston, Ontario and Capilano University in Vancouver, British Columbia, Kim holds a Bachelor of Arts degree and a post-graduate diploma in Asia-Pacific Business Management. She was raised on military bases around the world.
INTERNATIONAL BRAND MASTER AWARD BACKGROUND
The International Brand Master award was established in 2009 to bring recognition to the outstanding work of extraordinary educational brand marketing professionals from around the world. Since then, EMG has received nominations from countries including Portugal, Belgium, Vietnam, Scotland, Netherlands, Australia, England, Canada, and the United States. This year, a blue-ribbon panel of volunteer international judges from the United States, Saudi Arabia, and England reviewed supporting materials provided by the nominees. Nominees were asked to provide responses to a number of questions related to their brand's strategy, tactics, and to provide results as well as provide several letters of support from colleagues. The judges narrowed the pool of distinguished nominees to three exceptional finalists. One from the United States, Will Kopp from Ohio Wesleyan University; one from Canada, Kim Lawrence from University of Calgary; and one from England, Paul Mylrea from University of Cambridge. Votes to determine the winner among the three finalists were cast by 800 brand stakeholders and fellow marketing professionals from around the world. The winner was chosen by a combination of marketing professionals' votes and the judges' scores.
This year's blue ribbon judging panel included:
-- Shelly Brenckman: 7th Annual International Brand Master Winner and Marketing Coordinator at Texas A&M University Startup Aggieland, United States
-- Michelle D'Antoni: Manager Global Communications at King Abdullah University of Science and Technology, Saudi Arabia
-- Claudia Jackson: Executive Director, Strategic Communication and Government Relations at Del Mar College, United States
-- Laura Montgomery: Director of Academic Program Marketing at The New School, United States
-- Tracy Playle: CEO and Communications Strategist at Utterly Content Ltd and Pickle Jar Communications Ltd, United Kingdom
-- Travis Brock: Chair of the 8th Annual International Brand Master Award committee, and Director of Business Development and Social Media for Educational Marketing Group, Inc., United States
For more information, visit: http://www.emgonline.com/.
EDUCATIONAL MARKETING GROUP, INC. BACKGROUND
EMG is a full-service, integrated brand development and marketing agency that provides custom-tailored research, brand development, creative, development, new media services, and media services for universities throughout North America. Headquartered in Parker, Colorado, the company was established in 1997 and has operated in the higher education arena exclusively for 20 years. Clients have included Colorado Community College System, North Carolina State University, Washington State University, Virginia Tech, Cal Poly, Dalhousie University, University of Victoria, University of Colorado, University of Illinois, University of Michigan, University of Tennessee, University of Arkansas, and many others.
For more information, visit: http://www.emgonline.com/brandmaster/.