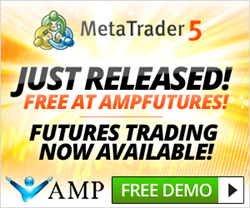 For years, MetaTrader has been the largest trading platform for Forex Traders, AMP Futures is excited to be able to now offer MetaTrader to Futures Markets Traders.
(PRWEB) April 29, 2017
AMP Futures Trading Super Center, which offers various trading and data platforms, is pleased to present MetaTrader 5, currently used by Millions of Traders Worldwide. It can be downloaded at AMP at no cost for PCs, iOS, Android, and tablets here: Free MetaTrader 5 Demo >
Focusing on user customizability, the platform offers a wide variety of functions for the modern trader. Powerful algorithmic trading with its built-in MQL5 development environment, as well as the largest store of trading applications at MetaTrader Market as add-ons enhance the user's experience and data analytics. MetaTrader 5, with its Strategy Tester, also allows users to test and optimize their trading robot before real trading use.
The MQL5 Wizard also allows users to quickly and easily create their own auto-trading robots and indicators. Likewise, unlimited charts 38 technical indicators, 44 analytical objects, 21 timeframes and one-minute history of quotes are included to meet traders' expectations for fast-paced and accurate trading.
Similarly, alerts may be set up to notify users of desired trading events. Trading strategies can become more flexible, while the reaction to significant events can be made quicker. The online trading platform will immediately notify traders of an event with a sound, email, or push notification.
MetaTrader 5, at AMP Futures, allows one to trade on over 100+ Regulated Futures Contracts on the following Futures Exchanges: CME, CBOT, NYMEX, COMEX, ICE-US, ICE-UK, ICE-LIFFE, EUREX, Osaka - Japan (JPX), Singapore Exchange (SGX), Sydney Futures Exchange (SFE). See Full List of Available Futures Markets >
Traders can review these how-to videos for in-depth explanations of MetaTrader 5: Watch Videos >
About AMP Futures:
AMP Futures provides fast, reliable data feeds and trading routes for online traders. Customer service is a top priority. We invest heavily in training our support staff to meet client expectations of market and technical knowledge.
AMP Futures is a Chicago-based Futures Commission Merchant (FCM) providing access to the global electronic futures markets for Individual Traders, US & Foreign Introducing Brokerages, CTAs, 3rd Party & API Developers from 150+ Countries Around the World. Why pay more for Less? Get Cheapest Commissions and Excellent Customer Service at AMP!
For more information visit our website http://www.ampfutures.com
Or please contact our 24 hour Customer Service in real-time via Phone or Live CHAT: https://www.ampfutures.com/contact-us/
+1 (312) 893-6400
trading(at)ampfutures.com