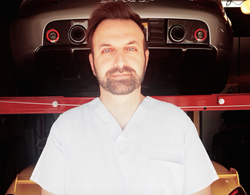 One of the great pleasures I get out of my job is seeing someone come in with severe pain and, after treatment, get a new lease on life
Miami, Florida (PRWEB) April 15, 2017
Dr. Baidey treats many disorders that can result in short or long term pain. Most commonly treated disorders include Spinal (Back and Neck), Nerve (Neuropathic) pain, Headaches, Arthritis, and pain associated with Failed back surgery syndrome.
As one of the earliest Physicians in the US with advanced Neuro-Stimulator Implant training, (including occipital and peripheral implantation as well as spinal) Doctor Baidey's goal is to help his Patients increase functionality and not simply to reduce pain, as function has a significant impact on long term health. Many different Image Guided procedures can be performed with 90% not requiring an open incision. His goal is to minimize the need for pain medications and eliminate them when possible. Because he is Multi-Specialty trained, It is like having more than one doctor at the same time. This increases not only the level of care, but can also be a convenience to his Patients. "One of the great pleasures I get out of my job is seeing someone come in with severe pain and, after treatment, get a new lease on life", says Dr. Baidey.
Dr. Allen Baidey practiced in Sarasota Florida independently for 13 years and subsequently retired at the age of 45. He then moved to Miami to collaborate with his wife (a renowned Wedding and Costume designer) in the development of her new patented invention; a unique woman's shoe that is comfortable and fashionable. The product was issued a US patent and will roll out into production in the near future.
New patients are accepted, as are most forms of Health Insurance.
To make an appointment visit http://www.neuropainmanagement.com