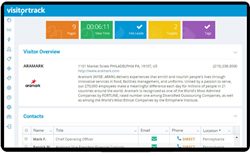 Through identification of otherwise anonymous website visitors, companies are identified, key behaviors are tracked, and detailed person-level contact records are matched.
Denver Technology Center, CO (PRWEB) April 18, 2017
VisitorTrack, from netFactor Corporation, which provides tracking and identification of the anonymous business visitors to a website, has been advanced with an all-new interface and powerful reporting capabilities. This upgrade leverages the latest in responsive web design and graphical enhancements to provide a compelling product for business-to-business lead generation.
Like "Caller ID for a Website®", VisitorTrack has been the leading website visitor intelligence platform in the marketplace. Where B2B website conversion rates average 1% to 2%, VisitorTrack drives detailed intelligence for the website visitors who do not complete a registration. The many new product enhancements have been launched to provide sales and marketing users around the world advanced reporting functions and a superior visual experience.
"The persona for today's B2B sales and marketing user is perhaps the most-sophisticated of any product consumer" said Christopher Jeffers, CEO of netFactor. "With so many options for the business-to-business marketing tech stack, driving meaningful differentiators is a very-real challenge when you are presenting complex data. We have dedicated ourselves to matching the quality of our anonymous website visitor intelligence with the most-advanced user-experience."
Feedback from VisitorTrack users has confirmed the new product design and enhancements have driven considerable advances. Alexandria Dolph, Marketing Analyst for EquipNet, Inc. stated "The ability to export downloaded contacts and read information is just clearer. Much more user-friendly. Easier to navigate." Other responses to the new VisitorTrack product confirm similar experiences;
"The layout is bolder, brighter and much cleaner looking. The interactive reporting and graphs are great."
"Quicker, better layout, more report display and format options."
"Convenient layout, clearly labeled action buttons, greater functionality, and aesthetically more pleasing to the eye. Great job, netFactor!"
VisitorTrack, from netFactor, is used for B2B lead generatio n by companies around the world. Through identification of otherwise anonymous website visitors, companies are identified, key behaviors are tracked, and detailed person-level contact records are matched. VisitorTrack integrates with hundreds of sales and marketing technologies to include Salesforce, Hubspot, Marketo, Pardot, and the leading Email products such as Constant Contact and MailChimp. VisitorTrack is the top-rated Visitor Intelligence offering and leader in Lead Generation by G2 Crowd. VisitorTrack is provided as a software-as-a-service offering, and through API into data warehouses and marketing applications amongst customers and partners.
About netFactor
netFactor Corporation provides a suite of products to drive new levels of sales performance from Internet marketing for the Business-to-Business market. The company's core VisitorTrack technology platform and APIs integrates web analytics, business intelligence and marketing automation into a powerful SaaS application for lead generation from anonymous visitor tracking – it's like "Caller ID for Your Website®." netFactor is privileged to serve customers and resellers across multiple industries including software, telecom, healthcare, technology, financial, professional services, manufacturing, and transportation. For more please visit http://www.netFactor.com.
Media Contact
Clair Fall
(720) 489-5534
clair(dot)f(at)netfactor(dot)com