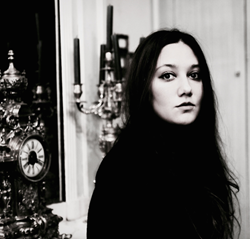 The most uplifting part of my job is when a Bride choses my design as a center piece of her most important day
Miami,Florida (PRWEB) April 15, 2017
Arefeh Mansouri has been an inspirational figure in Women's Fashion since the start of her fashion line in 2007.
An artist and painter at heart, her creations have adorned red carpets in Hollywood, been immortalized in motion pictures, and have even been displayed in Museums.
Other designers are just now emulating her Wedding Boleros, which were the editors' pick in "The Knot" magazine during New York City Bridal fashion week.
Her "French Classic Inspired" Collection at the 2016 Paris Fashion week has also caught the eye of others trying to make it their own.
Arefeh's technical skills and creativity are unsurpassed and reflected in her work as a Wedding Gown Designer and Hollywood Costume Designer.
Her Wedding Gowns are timeless wearable art that exude an edgy, glamour and sophistication rarely seen in today's Fashions.
Arefeh Mansouri has completed the renovation of her new Headquarters in the heart of Miami's Coral Gables.
She personally designed and decorated the interior, which will house her showroom and offices.
Her Bridal Salon creates a warm and intimate setting for Brides to find their Dream Gown. The Gowns are distinctively Arefeh, some with a classic sophistication and elaborate crystal adornment and some are edgy and modern with a minimalist sensibility. All are hand made in Italy with the top quality silk and Swarovski crystals.
In addition, Arefeh is nearing the roll-out of her new invention: "FLAT PLAT", a flat shoe, with a patented outsole, that she will display at her Miami location during its introduction. The shoes will include a Bridal Varieties.
"The most uplifting part of my job is when a Bride chooses my design as a center piece of her most important day" Says Arefeh Mansouri.
To find the Bridal Gown of your Dreams, go to http://www.arefeh.com/make-an-appointment-2/# to arrange an appointment.