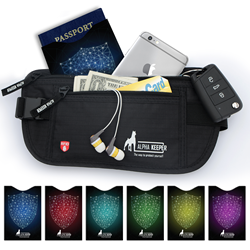 After two years of major success being an Amazon top seller of Money Belt, ETop Pick LLC has launched its own online store for their flagship brand called Alpha Keeper™
LAS VEGAS, Nevada (PRWEB) April 17, 2017
After two years of major success being an Amazon top seller, ETop Pick LLC has launched its own online store for their flagship brand called, Alpha Keeper™, making it possible for consumers to order Alpha Keeper™ money belts directly from their website.
The new site, called Alpha-keeper.com, provides customers with fast and efficient shipping, as all orders are fulfilled by Amazon. It also offers exclusive promotions, such as a 5-percent discount if customers sign up for the VIP club and free shipping with orders over $29. In addition, the site is lively and features a helpful video demonstration of how to use the money belt. It's also secure and easy to navigate. Alpha-keeper.com also has a blog that offers great traveling tips and suggestions.
The website launch comes at a perfect time because as temperatures are getting warmer, many people are making travel plans for road trips, weekend get-a-ways and family vacations. "Our money belts are a must-have item for travelers and are also recommended for daily use," said Hen Feldman, Founder. "They are made with quality RFID-blocking materials that protect against today's high-tech pickpockets."
RFID, which stands for radio frequency identification, is increasingly being used by unscrupulous individuals who prey on unsuspecting consumers. Today, passports, most credit cards and some drivers' licenses now come embedded with radio frequency identification chips that use radio waves to communicate information. Some hackers and thieves use an electronic form of pickpocketing called RFID skimming, in which a card is activated with an RFID reader. When activated with a reader, information is transmitted wirelessly, duplicating the card holder's personal information. This action is undetected, making it easy for a hacker to verify the cardholder's identity and make purchases without swiping the card.
The Alpha Keeper™ money belts encase cards and passports with 100-percent, RFID-blocking materials that interfere with radio waves. "Our number one goal is for our customers to be able to relax, feel confident and safe as they explore this amazing planet," Feldman said. "The Alpha Keepers and RFID Sleeves were designed for travelers by travelers."
The new online store also gives customers the option to order sets of RFID sleeves without purchasing a money belt. Each set comes with a sleeve to fit U.S. Passports and six RFID sleeves to store credit and debit cards. The sleeves also help keep cards organized, so they are easier to access. Like with the money belts, the sleeves have 100-percent, RFID-blocking material to keep personal information protected. The money belts and sleeves are affordable, comfortable, and made with water-resistant material. The belts, which come in stylish designs, feature high-quality zippers (YKK Zippers) and a long, elastic strap that can be adjusted to fit all body types.
For more information or to purchase an Alpha Keeper™ product, please visit http://www.alpha-keeper.com.
About ETop Pick LLC:
For more than two years, ETop Pick LLC has been successful in selling its products worldwide. The company has a team that is dedicated to producing high-quality, uniquely-designed products for the travel market. ETop Pick LLC is fully invested in its products and is committed to making its money belts and RFID sleeves stand out from the competition. The company currently has more products under production to meet the expanding needs of consumers.