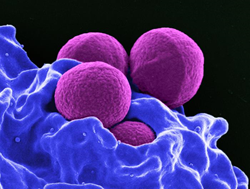 The United States needs to undergo a paradime shift in how it approaches control of MRSA.
Lexington, KY (PRWEB) April 19, 2017
A recent investigative report by Reuters questioned the safety and efficacy of a commonly used technique for preventing hospital MRSA infections. Daily bathing all patients in a hospital unit using the antiseptic chlorhexidine is becoming commonplace. But important questions need to be answered. In the report: Dr. Kevin Kavanagh, Board Chairman of Health Watch USA, commented on a major research article which has been used by many to justify widespread use of daily bathing of all patients in intensive care units.
Reuters: "It really doesn't make the case," said Dr. Kevin Kavanagh, a patient safety researcher whose objections to the study were published in a 2013 article in Antimicrobial Agents and Chemotherapy. "When you look at data, the vast majority of the effect on preventing infections was on the more benign skin bacteria and yeast."
The Reuters' report outlines a number of concerns with this technique including:
#1. Results being clouded by potential industrial conflicts-of-interest.
#2. Questions if the evidence is strong enough to support widespread use.
#3. Mounting evidence of the promotion of bacterial resistance, even to the last line of defense antibiotic – Colistin.
#4. Non-FDA approved use of the product. The FDA requires a label on the product warning against using it as a "general skin cleanser."
An alternative system is used by the U.S. Veterans Administration System which has implemented a bundled approach comprised of basic infectious disease measures that have as a major component surveillance and isolation. Which intervention has the best results would optimally be answered by comparing infection rates between various healthcare systems. However, in a recent article in Antimicrobial Research and Infection Control, Dr. Kavanagh and colleagues, stressed that determining the most effective preventative strategy has been hindered due to the lack of a comprehensive standardized tracking system for these dangerous pathogens. In addition, all types of healthcare facilities, including nursing homes and surgery centers, should use the same system and be required to participate.
In an accompanying blog, Dr. Kavanagh added that controlling the spread of these pathogens is of paramount importance. Hand washing is very important. But for the control of MRSA hand hygiene is somewhat of a backup measure. If MRSA is being spread by a worker's hands then at some point their hands must have come into contact with this dangerous pathogen and there must have been a breakdown in containment and control, which should be our primary focus.