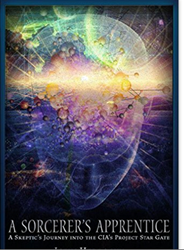 Consider the limitations you have been brain-washed to believe about yourself, and now, break free in accord with this fascinating exploration about remote viewing, astral projection, meditation and more.
Los Angeles, CA (PRWEB) April 17, 2017
Explore today- live or on podcast- the fascinating explorations once researched in Stanford, Princeton and the US Government called Remote Viewing with author John Herlosky on Dr. Carol Francis Talk Radio linked here.
John Herlosky is a Remote Viewer, meaning, he has journeyed beyond his body's limits into other locations, viewing with another set of eyes or senses. Is this related to psychic powers or astral projection or the third eye knowing? Explore today with John Herlosky who is the author of A Sorcerer's Apprentice: A Skeptic's Journey which is an exploration into the CIA's Project Star Gate. The CIA sponsored psychic spies with the ability to extend their consciousness to accurately describe targets not only half a world away but to look into the future as well. It all sounded like science fiction to John Herlosky after reading an expose by former member of the CIA's Project Star Gate, Dr. David Morehouse. Two years later, skeptical but intrigued by the possibilities implied, John trained with Dr. Morehouse to find out the truth. Sorcerer's Apprentice (TrineDay, April 2015) chronicles the author's journey from interested skeptic to operational remote viewer working his first mission as well as his former life as a police officer and private military contractor. He takes you on a journey from the crushing depths and pathos of the wreck of the Titanic to the a downed pilot missing for 19 years from the first Gulf War. Witness the personal turmoil as the author's long-held beliefs clash with the powerful implications of his experiences. Herlosky can be reached at asorcerersapprentice.com and his book is on this link at Amazon.com.
Host Dr Carol Francis, Clinical Psychologist and Hypnotherapist also share events that illustrate that we have powers beyond our imagination if we dare to learn, explore, train and practice the many tools now available to all interested. You can contact her at drcarolfrancis.com.