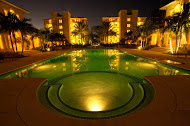 "We are deeply honored to be receiving these amazing accolades from such a higly-respected travel website as TripAdvisor." - Terria Misick, General Manager
Providenciales, Turks & Caicos Islands, BWI (PRWEB) April 17, 2017
The Tuscany Resort, one of Provo's premier luxury boutique resorts, has a lot to celebrate! Recipient of three prestigious TripAdvisor Travelers Choice Awards for 2017, The Tuscany Resort is announcing their new Spring 2017 Travel Promotions.
Starting April 16, 2017, The Tuscany Resort begins their spring/summer promotions where the nightly rates are the lowest of the season and in addition, the resort is offering every fourth night and every seventh nights compliemntary. Families can enjoy staying seven nights in an oceanfront three bedroom condo and pay for only five nights! This travel promotion starts April 16 and will run continuously until December 18, 2017.
All of the Tuscany's 30 oceanfront condos are three-bedroom rentals but the resort can "lock-off" a bedroom and ensuite bathroom to accommodate families who only need two bedrooms, while the nightly rate drops to accommodate a two-bedroom oceanfront rental.
The Tuscany has been bestowed again with two prestigious 2017 TripAdvisor Travelers Choice Awards. Top and foremost is being named in the Top 25 Hotels in the World while also being recognized in the #2 Spot out of the Top 25 Hotels in the Caribbean! Terria Misick, general resort manager of The Tuscany Resort, said, "we are deeply honored to be receiving these amazing accolades from such a highly-respected travel website as TripAdvisor."
Families looking for elegant, luxury accommodations in a boutique and private beachfront setting and special amenities should call toll-free 1-866-359-6466 or go to http://www.thetuscanyresort.com.
About The Tuscany Resort
Conveniently located fifteen minutes from Provo International Airport, The Tuscany Resort on Grace Bay is one of Provo's finest boutique resorts. Thirty oceanfront villas on five beautifully landscaped acres offering over three hundred feet of pristine and private Grace Bay beachfront, The Tuscany's offers well-appointed oceanfront villas in a private setting, perfect for families and couples. Each villa's screened in patio showcases panoramic views of Grace Bay.
To reserve an oceanfront condo for spring and summer, 2017, please contact 1-866-359-6466 or go to http://www.thetuscanyresort.com.