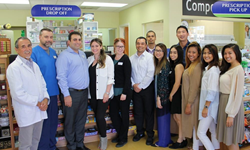 (PRWEB) April 17, 2017
SMC Pharmacy is a full-service, family run independent pharmacy that fills all prescriptions (brand and generic) as well as specializing in compounding, medication synchronization and medication therapy management.
Since opening in 2011, SMC Pharmacy has grown by hiring trained professionals who focus on customer service. Pharmacists and pharmacy technicians receive special training in compounding techniques from the Professional Compounding Centers of America, allowing them to modify prescribed medications to a specific strength, dosage form or allergen-free formula when a doctor recommends doing so.
SMC Pharmacy is committed to being your everyday health resource.
"Greatest little pharmacy ever!!! Not only are they quick, efficient and kind, they also deliver, for free!!"
Tessa R. - Santa Monica, CA
"They've helped me out many times, making sure I was able to get all my medications - including ones I needed specially compounded"
Wendy H. - Culver City, CA
The "Best of Los Angeles Award" community was formed three years ago and consists of over 3,000 professional members living and working in Southern California. It celebrates the best people, places and things in Los Angeles with a slogan "No Ads. No B.S. Only the Best."
"The mission of the community is to celebrate the best of Los Angeles, and allowing its community members to connect with other members who share the highest standards of quality and integrity," said DeRose.
"At SMC Pharmacy, our pharmacists and technicians have impeccable credentials and years of training, assuring you a pharmacist and pharmacy you can trust. We are honored to receive this award and be recognized as "The Best Pharmacy in Los Angeles," says SMC lead pharmacist, Payam Tizabgar.