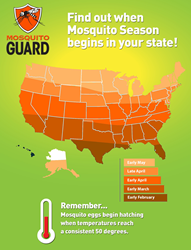 "Most individuals think of mosquitos as summertime party crashers," says Castro. As the Mosquito Guard map illustrates, however, mosquito season runs from spring into autumn, depending on your location
New York, New York (PRWEB) April 18, 2017
"The 2017 mosquito season presents the greatest threat ever to barbeques, picnics, and summer holiday celebrations," says Manuel Castro. Castro is the co-founder of Mosquito Guard, maker of insect repellent products made with all-natural ingredients. He points to alarming headlines like these warning of an epic battle between man and mosquito this year:

"This tremendous uptick in the mosquito population demands that we take a more aggressive approach to prevent annoying bites and life-threatening illnesses," says Castro. "Fortunately, a host of preventive measures are simple and effective."
4 Dangers of the Common Mosquito Bite
What's the big deal about mosquito bites? It's true that the majority of bites are nothing more than an itchy nuisance that can be treated with calamine lotion. For some people, however, a single mosquito bite can cause allergic reactions such as swelling, cramps, and difficulty breathing, as well as life-threatening diseases:
West Nile Virus
Zika Virus
Malaria
Dengue
Chikungunya
The Culprit – Mosquito Saliva
Not all mosquitoes are blood suckers. Females bite and use the protein in human blood to feed their offspring.
To make the blood draw easier, the female injects salvia into the bloodstream. "Mosquito saliva prevents a person's blood from clotting," explains Castro. "It's the saliva, rather than the bite itself, that causes swelling, itching, and redness."
Man vs. Mosquito – 7 Ways to Use Natural Insect Control to Win the War
According to the American Automobile Association newsroom, more than one-third of Americans enjoyed a family vacation in 2016. Of those, 49% visited mosquito-friendly national parks. "Nothing ruins a family outing like mosquitoes," says Castro. He recommends these environmentally friendly, natural precautions to safeguard spring and summer fun outdoors, indoors, and wherever mosquito season may find you:
1. Choose a Natural or Chemical Mosquito Repellent – In addition to using one of several chemical-based repellents on the market, consumers can choose from organic products, Peppermint, Soybean, Castor, Rosemary, Geraniol, and other plant-based oils. "Citronella & Lemongrass oil has been proven to be an effective alternative to chemical-based products," says Castro. "This is especially important to parents who want to limit their child's exposure to toxins."
2. Put the Government to Work for You - The CDC website includes searchable database of destinations and travel notices affecting health.
3. Enjoy the Breeze – A simple fan is a great deterrent. Mosquitos have difficult flying in "winds" above 1mph. "Point the air flow towards the lower half of your body where the mosquitoes fly to block their approach," recommends Castro.
4. Dress for Success – Long-sleeved shirts and long pants serve as a true barrier between you and bites. "Lighter colors generally attract fewer insects than darker colors, and are cooler, too," says Castro
5. Don't Let Down Your Guard Inside – If you're camping out or if your accommodations don't have window or door screens, mosquito bed netting can help keep you bite-free.
6. Take It Easy on Alcohol and Exercise – An increase in metabolic rate causes your body to release CO2 which attracts the interest of mosquitos.
7. Watch Out for Pooling Water – "Mosquitos love water like moths love light," reports Castro. Toss out left-over beverages, keep wash basins empty, etc.
8. Check Your Watch – Mosquitos are most active in the morning and evening. Plan your activities accordingly.
About Mosquito Guard
Mosquito Guard is a line of 100% all-natural mosquito repellent products Co-Founded by Manny Castro. Their offerings include protective repellent sprays, repellent bands, incense sticks, Insect Bite Relief , LED bulb zappers, and mosquito netting for baby and toddler cribs. The products are non-toxic, eco friendly, making them a natural choice for people who prefer organic products. For additional information on Mosquito Guard, contact Giselle Estevez, Media Inquiries or visit:
Contact:
Giselle Estevez- Media Inquires
Mosquito Guard
1-888-600-6188
Info(at)mosquitoguard.net
https://mosquitoguard.net