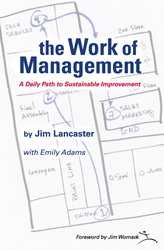 As a result, improvements were sustained, money from them hit the bottom line, and Lantech's profitability quadrupled.
Cambridge, MA (PRWEB) April 19, 2017
Lantech CEO Jim Lancaster, author of the just-published book the Work of Management, will speak May 10, 2017, at the IndustryWeek Expo in Cleveland on how the company discovered the missing piece to the puzzle of sustaining continuous improvement benefits, according to publisher the Lean Enterprise Institute.
Lancaster will speak from 11:30 am to 12:30 pm in room six at the Huntington Convention Center, site of the IndustryWeek Manufacturing & Technology Conference & Expo, running May 8-10. Organizers expect 1,200+ manufacturing professionals to attend.
He'll explain why Lantech, an early adopter of lean management, struggled over time to sustain lean benefits and improve financial performance. Lancaster will describe how the Lantech team developed and deployed a new "daily management" system that shifted the focus of the lean effort to maintaining processes before improving them. As a result, improvements were sustained, money from them hit the bottom line, and Lantech's profitability quadrupled.
Lean Improvement Pioneer
The company's original lean transformation was featured in the Harvard Business Review and business best-seller Lean Thinking. Groups of executives, managers, and continuous improvement practitioners visited Lantech to see how a company committed to continuous lean improvements operated.
About the Book

The Work of Management: A Daily Path to Real Improvement
ISBN: 978-1-934109-02-1
Pages: 171
Price: $35.00
Editors/Producers/Bloggers: For review copies of The Work of Management or to interview the author, contact LEI Communications Director Chet Marchwinski cmarchwinski at lean dot org or 617-871-2930.
Readers can buy the book at: https://www.lean.org/BookStore/ProductDetails.cfm?SelectedProductId=410
About Lantech
Lantech is known as the leader in stretch wrap technology and innovation, as well as case handling equipment. It has sales and manufacturing headquarters in Louisville, KY, sales and manufacturing facilities in The Netherlands, and sales and service operations in Australia and China. Annual gross sales exceed $130 million. Lantech employs approximately 475 associates. Visit lantech.com/about for more information
About LEI
Lean Enterprise Institute Inc., is a 501(c)(3) nonprofit based in Cambridge, MA, with a mission to make things better through lean thinking and practice. Founded in 1997 by management expert James P. Womack, PhD, LEI conducts research, teaches educational workshops, publishes books and ebooks, runs conferences, and shares practical information about lean thinking and practice. Visit lean.org for more information.