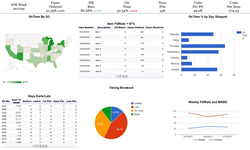 There is a lot to take in with these new tools and vendor expectations. These tools will help vendors of any scale discover the root causes of low OTIF scores and address them all through a single interface. -Paul Warren, VP, Director of Consulting at ERS
New York, NY (PRWEB) April 20, 2017
Enhanced Retail Solutions, a leading provider of Software-as-a-Service (SaaS) retail analytic and demand planning solutions to suppliers, licensors and their retail trading partners, announces a simple and straightforward tool that automates the distillation of Walmart scorecard data and eliminate errors, audits and auto-corrects vendor lead times for Walmart deliveries.
In the past decade Walmart has made several attempts to increase vendor accountability, gradually tightening the window for orders to arrive at stores and still be considered "on time" and constantly monitoring fulfillment rates. Their new implementation will be assisted by a switch from previous tracking via "MABD" and "Fill Rate Compliance" to a new acronym representing a combined scoring under the guise of OTIF (On Time, In Full). With this new tool, Walmart has again shortened the window of what is considered "On Time". If you are not in Food, Consumables, or Health & Wellness (which must be delivered only on the MABD date) then you must either be delivering a day earlier or on the exact MABD date.
While a vendor can work directly and manually with this data, ERS' OTIF Optimizer automates the distillation of this data and eliminates errors. It will also aggregate data across vendors, enabling them to benefit from a pool of shipping data to see how their performance compares to that aggregate and help pinpoint accountability.
"There is a lot to take in with these new tools and vendor expectations", says Paul Warren, VP, Director of Consulting at Enhanced Retail Solutions. "These tools will help vendors of any scale discover the root causes of low OTIF scores and address them all through a single interface."
About Enhanced Retail Solutions LLC:
Enhanced Retail Solutions is a software and consulting firm specializing in retail analysis and demand planning for manufacturers, licensors and their retail partners. ERS' state of the art software tools and consulting deliver critical data quickly, easily and cost effectively, adding over one hundred million dollars to their clients' bottom line. ERS' broad customer base includes industry leaders in the electronics, consumer products, apparel, footwear, home textile, toy, home décor, home improvement, housewares, jewelry and food industries. Headquartered in New York City, Enhanced Retail Solutions has offices in the Dallas, TX and development in the US, Cork, Ireland and Delhi, India. For more information, visit http://www.EnhancedRetailSolutions.com.
*Enhanced Retail Solutions is not affiliated with, sponsored by, or endorsed by Walmart Stores, Inc.