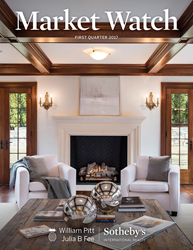 Fairfield and Litchfield Counties, Conn., Westchester County, N.Y., and Berkshires, Mass. (PRWEB) April 17, 2017
A report detailing market results for the first quarter of 2017 in Fairfield and Litchfield Counties and the Shoreline in Connecticut, the Berkshires in Massachusetts, and Westchester County, New York, has just been released by William Pitt and Julia B. Fee Sotheby's International Realty, the company announced today.
The report found that most markets posted increases in both sales volume and unit sales compared to the same period last year. Westchester County saw quarter over quarter increases of 13% in dollar volume and 7% in units, with the southern region up by 10% in volume and 4% in units, and the northern region by 22% and 14% in volume and units, respectively. Similarly, sales in Fairfield County were higher county-wide than they were at this time last year, with dollar volume rising quarter over quarter by 7% and unit sales by 9%. Up on the Connecticut Shoreline, comprising New Haven, Middlesex and New London counties, sales were very steady versus the first quarter of 2016, with dollar volume standing 1% higher than this time last year and unit sales 1% lower. In the Berkshires, sales results were very much on par with the exceptionally robust first quarter of last year, with volume 1% above that period and units 10% higher. The first quarter of 2016 had seen enormous gains over the same time the previous year. Lastly, Litchfield County, exhibited a strong performance this quarter with significant closings in the high end driving a 29% increase in dollar volume over the first quarter last year, and unit sales demonstrating a 9% increase.
The report commented that buyers have been entering the marketplace in droves, prompted by the Federal Reserve's recent rate hikes and projected further increases for this year. The changes have caused mortgage rates to tick upward and motivate real estate intenders to act before they get much higher. Additional factors supporting a strong real estate market include the first quarter rally on Wall Street, the US unemployment rate falling to a ten-year low in early April, and the consumer confidence level climbing to its highest peak since December 2000 at 125.6 (1985=100), as reported by the Conference Board Consumer Confidence Index®. The report also found that most markets are reporting increases in properties going into contract compared to this time last year, pointing to further gains in the second quarter.
"If consumer confidence is traditionally the leading indicator in real estate, then we can confidently state we are well positioned for another great year," said Paul Breunich, President and Chief Executive Officer of William Pitt and Julia B. Fee Sotheby's International Realty. "With the markets so active, pending sales increasing year over year and the prime real estate season just around the corner, we have every reason to believe the momentum will persist throughout the second quarter and the remainder of the year."
The 2017 First Quarter Market Watch is available for download on the firm's website, williampitt.com.
###
About William Pitt and Julia B. Fee Sotheby's International Realty
Founded in 1949, William Pitt and Julia B. Fee Sotheby's International Realty manages a $3.9-billion portfolio with more than 1,000 sales associates in 24 brokerages spanning Connecticut, Massachusetts, and Westchester County, New York. William Pitt and Julia B. Fee Sotheby's International Realty is the largest Sotheby's International Realty(R) affiliate globally and the 28th-largest real estate company by sales volume in the United States. A full-service real estate firm headquartered in Stamford, Connecticut, William Pitt and Julia B. Fee Sotheby's International Realty provides ancillary services including commercial services through its affiliation with Building and Land Technology, a second-generation development company based in Stamford, Connecticut; William Pitt Insurance Services; and an award-winning global relocation division. For more information, visit the website at williampitt.com.
Sotheby's International Realty's worldwide network includes approximately 19,000 sales associates located in approximately 850 offices throughout 65 countries and territories.