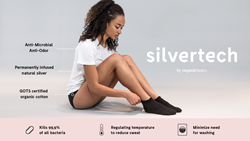 "Silver plays a huge role in these products. It has been used in space suits and in the medical industry for many years due to its unique anti-bacterial capabilities."
San Francisco, CA (PRWEB) April 17, 2017
SilverTech, silver infused undergarments for women, launched on Kickstarter on April 12th and are almost halfway to their funding goal. They hope to reach their funding goal of $35,000 and are no strangers to Kickstarter campaigns with this product. They ended their successful men's SilverTech campaign on June 2, 2016, raising over $145,000. Now, the product is available to women around the world.
SilverTech by Organic Basics looks to change the way clothes are made with their smart fabric. Their fabric has real, pure silver woven directly in, so it won't degrade in strength or wash out over time, unlike other similar products. By having pure silver integrated into the fabric, it becomes 99.9 percent effective at preventing bacterial growth. It also stops the growth of odor-causing bacteria, meaning their clothing needs less washes and gets more uses. They are currently selling socks, active bras, underwear, and t-shirts, all with their smart fabric that is kind to the skin.
"SilverTech is an innovative fabric technique in producing underwear. It was only a matter of time until we came out with a women's line of SilverTech underwear after our men's brand had such success," says Mads Fibiger Rasmussen, Founder of Organic Basics. "Silver plays a huge role in these products. It has been used in space suits and in the medical industry for many years due to its unique anti-bacterial capabilities."
Weaving 100 percent silver with organic cotton is a process developed by NASA for astronauts. SilverTech's technology will regulate temperature, fight odor, and cut down on the need for washing. By prolonging time between washes, it will save on greenhouse gas emissions, water, and energy on a larger scale. Their product is made out of incredibly soft organic cotton. The silver in the fabric is 100 times larger than nanoparticles making it too large to penetrate the skin, therefore making it safe to use next to skin.
SilverTech for women, currently only available on Kickstarter, has already gained considerable recognition. Their inventive clothing line will begin at $12 and go up to $100 for a pack of socks, bottoms, an active bra, and tee. They plan to ship by August 2017. After the campaign is over their $12 socks with silver infused technology will retail for $30. For more information, visit the campaign bit.ly/SilverTechKS.
About Organic Basics
Organic Basics is a professional business built by experienced fashion designers, textile engineers, developers and operational professionals. Quality products and happy customers are what we do. We've sold over 60,000 products in 2016 and had more than 10,000 happy customers. We are not perfect but we never stop until we get it right. For more information on Organic Basics, visit http://www.organicbasics.com.