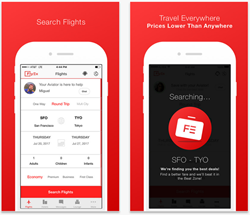 FlyEx combines artificial intelligence, incredible travel industry partnerships and the power of the sharing economy.
San Francisco, CA (PRWEB) April 18, 2017
The FlyEx team has been working in stealth mode to create a mobile application that can offer the world's lowest fares on flights and hotels, customized and on-demand. They've reached that goal and are now ready to revolutionize travel forever! Long gone are the days of searching multiple websites to find the best travel deals. FlyEx is here to change all of that.
Launched officially at SXSW 2017 last month, FlyEx combines Artificial Intelligence, incredible travel industry partnerships and the power of the sharing economy to offer unbeatable travel deals unmatched in the industry. FlyEx, unlike other consumer travel apps, is a two sided travel marketplace similar to Airbnb and Uber.
With FlyEx, users register and are immediately assigned an "Aviator," a handpicked human travel expert with intimate knowledge of the travel industry and destinations worldwide. The Aviator can not only assist users with information about their flight, hotel or destination, they have the power to customize fares and hotel prices to meet the traveler's budget, on-demand and in real-time. For the first time, millions of travel consumers can get personalized fares and hotel prices to meet their exact travel needs. On the Aviator side, once signed up, Aviators earn every time a traveler makes a travel booking. Instead of one Expedia, FlyEx is creating a million Expedias, each with intimate knowledge of their customers and the destinations they love to visit.
FlyEx's Artificial Intelligence is equally exciting. Officially called "ABHI," the FlyEx AI can assist customers while working hand in hand with FlyEx's expert Aviators. "ABHI" can recommend travel times, dates and other suggestions based off relevant data. ABHI can also recommend tours and excursions, cruises and more, all in real time!
FlyEx's VP of Engineering, Tom Jay, has over 20 years' experience working with industry leading companies like Intel and Verizon focused on mobile technologies. Tom had this to say about the FlyEx product, "I've never been so excited to push a product to market in my entire career. We're seeing FlyEx Travelers saving hundreds on flights and hotels at the same time Aviators are enjoying significant earnings helping Travelers."
To learn more please visit http://www.flyex.com or download the app from the iTunes App Store: https://itunes.apple.com/us/app/flyex-travelers/id1181108711
About FlyEx:
FlyEx is a revolutionary new travel app that connects travelers looking for the lowest airfare and hotels with FlyEx Aviators, personal handpicked travel advisors standing by to help plan trips. The FlyEx Travel Chat™ platform allows Aviators to customize fares and hotels for users in real time and on-demand. Aviators can assist app users with questions about flights, hotels or destinations, and can also offer exclusive discounts in real time. Need a discount off the price of a flight to be able to buy it right away? Ask your Aviator! Sign up, search, find the travel deals you want and message your Aviator to get the best deals on travel, ever. Learn more at FlyEx.com or download the app today to see for yourself.