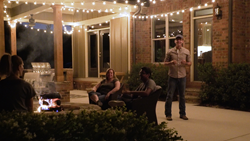 String lights are a great way to add light and personality to outdoor dining and living spaces.
Beatrice, Neb. (PRWEB) April 25, 2017
Once the time and money has been spent to create a backyard oasis, it makes sense that it should be enjoyed more often, even after the sun goes down.
Landscape designer, Doug Scott, of Redeem Your Ground in Atlanta, Georgia, said effective lighting is essential to creating outdoor living spaces that are safe and usable once the sun sets.
"While there are a wide variety of lighting options, some of which are pretty involved and expensive for some clients, I'll recommend a less expensive, more DIY alternative. String lights are a great way to add light and personality to your outdoor dining and living spaces."
To get started, Scott recommends homeowners first do a little research to find an appealing style of lights, and get a feel for the length and number of strands the project may need.
"Aside from the light strands, the appropriate hardware to hang the lights, and possibly an extension cord, are the only other materials needed for this project."
For hanging the strands of lights, Scott said most of the time, cup hooks or similar fasteners should be used.
"Be sure to choose outdoor grade hooks if they're going to be exposed to the elements," he added.
Next, sketch the light design on paper. Scott said creating a sketch will help ensure the desired look is captured, and will also be valuable when determining the right amount of lighting and hooks to purchase.
"For a more relaxed look, some homeowners go for a crisscross, or free form pattern, which often requires more strands of lights," he said. "For a more uniform look, simply hang lights across the center, or around the perimeter, which also may require fewer strands of lights to accomplish."
"Regardless, be creative and make sure the design represents you and how you want to live outdoors."
Once the intended pattern has been determined, measure the length of each run of lights, making sure to add a few feet of length to each pass. This will allow a bit of slack, and will help avoid placing the light strands under tension.
Scott said one other thing to consider before purchasing lights is the placement of the connection points.
"It makes sense to make the light strand connections as discreet as possible, ideally where they connect to a wall, post or tree. And while having a connection in the middle of a swag won't be the end of the world, try to minimize the chances of that as best you can."
Next, install the hooks.
"This should be a fairly painless process as long as the sketch is followed," Scott said.
Once the hooks have been installed, it's time to hang the lights. A word of caution: to minimize bulb breakage, it's important to hang the light strands without the bulbs installed.
"Also make sure the first strand reaches an outlet, or have an extension cord ready that will," Scott added.
Once your light strands are up and the look is satisfactory, install one bulb in each strand, then plug them in to test that everything is working as intended.
"Once everything is working properly, simply install the rest of the bulbs, light 'em up, kick back and enjoy."
Visit WeAreExmark.com/diy to see more 'Done in a Weekend' videos with project ideas to improve the beauty and functionality of outdoor living spaces.
About Exmark
Exmark Manufacturing was incorporated in May 1982 as an independent manufacturer of professional turf care equipment. Today, it is the leading manufacturer of commercial mowers and equipment for the landscape professional. Exmark mowers are purchased 2-to-1 over the next best-selling brand by landscape maintenance professionals. In addition to designing, building and marketing quality turf care equipment, Exmark's goal is total customer satisfaction. All Exmark products are designed to help customers increase productivity while delivering unmatched quality. Products are sold to distributors and dealers who share the company's commitment to customer service and quality products. Learn more at Exmark.com.
Note to Editors: All media inquiries, image or interview requests should be directed to Matt Gersib at (402) 314-2150 or mattgersib(at)gmail(dot)com. For other inquiries, please contact Exmark Mfg. Co., Inc., Industrial Park N.W., P.O. Box 808, Beatrice, NE 68310-0808; (402) 223-6300.