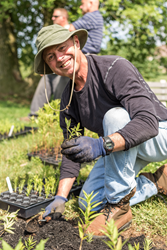 Eco-friendly initiatives big and small give senior adults purpose and resonate with their values. Future generations and the planet benefit, too.
Elizabethtown, Pennsylvania (PRWEB) April 19, 2017
For some senior adults, including Ray Horn, factors to consider when choosing a retirement community go beyond the size of the living accommodations or the variety of amenities and include the organization's environmental footprint. Consciously managing the land and natural resources on its property not only benefits a retirement community's longevity, it appeals to residents who view this type of social responsibility as a priority.
"We owe it to those before and after us to take care of the resources we're given," Patrick Sampsell, Masonic Villages' chief environmental and facilities officer, said. "Acres of rich farm land, a healthy creek, a thriving orchard and a hearty roaming cattle herd make for a beautiful setting to retire to and are all things residents appreciate and value."
The founders of Masonic Village selected its Elizabethtown location within Lancaster County more than 100 years ago because the property's acres of fertile land and natural springs made it ideal for a sustainable community, and a working farm still exists on the property. Its conservation practices and commitment to protecting soil and water resources while operating a viable beef cattle and farm enterprise recently earned Masonic Village a National Environmental Stewardship Award.
This backdrop inspires residents to do more than just sit back and watch. When Masonic Village restored 3,200 feet of the Conoy Creek's floodplain by removing centuries of nutrient-laden sediments and adding 7,000 feet of vegetation, residents helped monitor sediment levels. Since June 2013, a partnership between resident gardeners and Masonic Village's food services department has delivered vegetables from garden plots on site directly to campus restaurants. To support the lifecycle of the dwindling monarch butterfly population, as well as enrich Masonic Village's campus for residents and visitors, Horn and other residents, planted a butterfly garden in June 2015.
"We're continuing Masonic Villages' tradition of supporting the environment," Horn said. "We all have to do our part. When my grandkids come to visit, they love to play outside. They are excited to see the new wildlife, especially the monarch butterflies."
Eco-friendly initiatives can also save a retirement community and residents money. Masonic Villages' four-legged energy efficiency plan, focused on alternative energy, conservation, efficiency and smart technology, has reduced energy use by 15 percent across all five of its campuses (also located in Dallas, Lafayette Hill, Sewickley and Warminster, Pennsylvania). A one megawatt ground-mounted solar photovoltaic system in Elizabethtown produces approximately 1.2 million kWh of electricity per year, which Masonic Village purchases, saving the organization $40,000-$60,000 annually.
Eco-friendly initiatives big and small give senior adults purpose and resonate with their values. Future generations and the planet benefit, too.
With locations in Dallas, Elizabethtown, Lafayette Hill, Sewickley and Warminster, the not-for-profit Masonic Villages provide continuing care retirement services, children's services and community outreach services throughout Pennsylvania.