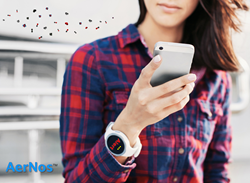 Actionable information could be a valuable tool in educating the public about reducing exposure to harmful airborne chemicals, particularly during the most vulnerable stages of life.
La Jolla, California and Waltham, Massachusetts (PRWEB) April 18, 2017
AerNos, Inc, and Findability Sciences, LLC today announced that they have entered into an agreement to provide consumers with personalized, actionable health and wellness information based on individual exposure to harmful chemicals in the air, the companies announced today. With more than 90% of urban populations exposed to unhealthy air quality, the collaboration will combine the technology innovations and expertise of both companies to provide solutions to a serious public health issue.
Scientific research links air pollution exposure to a wide range of longterm health effects including asthma, lung diseases, cardiovascular diseases, cancers, brain disorders and other illnesses. According to the World Health Organization (WHO) and Environmental Protection Agency (EPA), children and the elderly are most vulnerable to health damage caused by harmful gases. Scientists are also concerned about exposure to fossil fuels and other common pollutants during pregnancy and early in life, which can lead to brain development issues, especially in fetuses and young children. Actionable information could be a valuable tool in educating the public about reducing exposure to harmful airborne chemicals, particularly during the most vulnerable stages of life.
AerNos and Findability Sciences will use a real-time secure data-sharing connection to transfer air quality data quickly and safely. This information will include geolocation based gases, their concentrations and other location based micro environments. Carbon monoxide, ozone, formaldehyde, gas leaks, indoor VOCs and other major indoor and outdoor air quality gases will be processed by the Findability Platform®, a proprietary solution combining the power of big data, cognitive computing and AI. Findability platform® architecture and framework will integrate AerNos Multi Sensor Delivery PlatformTM (AX-MSDP) gas data along with consumer health profiles and data from other sources to provide specific individualized actionable content. Findability Sciences is a partner with IBM and uses IBM Watson APIs. These APIs will support creating a robust technology offering able to detect personal gas exposures, predict outcomes, and provide solutions to prevent or minimize health and wellness impacts.
Sources of harmful gases include vehicle emmissions, fuel burning combustion appliances, household cleaning products, personal care products, furniture, fireplaces, gasoline stations, industrial facilities, power plants, wildfires, vegetation, gas leaks and many more.
"Most of us have no idea what chemicals we are exposed to, or its implications to our health," said Sundip R. Doshi, Founder and CEO of AerNos. "By teaming up with Findability Sciences, we are taking a giant step towards actionable solutions that is personalized to the air you are breathing."
"Delivering predictive analytics and actionable information to improve health is a wonderful fit for congnitive computing and artificial intelligence solutions," said Anand Mahurkar, CEO of Findability Sciences. "We are thrilled to be working with AerNos to bring our predictive capabilities to support the efforts of families that want to reduce exposure to harmful chemicals in the air."
AerNos nano gas sensors are tiny, detect multiple gases simultaneously and are low powered System on Chip (SoC) designed to easily integrate into the Internet of Thing (IoT) devices. These sensors can detect gases and their concentration for various applications including environmental monitoring, food safety and spoilage, homeland security, industrial and manufacturing and healthcare applications. The collaboration between AerNos and Findability Sciences paves the way for intelligent actionable outcomes for applications far beyond environmental monitoring.
About Findability Sciences
Boston headquartered Findability Sciences is a leading boutique big data and cognitive solutions company with its flagship offering of Findability Platform®. Findability Platform® is a leading big data and cognitive architecture from Findability Sciences and since 2010 it is used by many industry verticals to solve unique business challenges by harnessing volume, velocity and verity of big data.
About AerNos
La Jolla, California based AerNos develops application specific nano sensors based on its breakthrough and proprietary AerCNTTM Technology to detect harmful gases in the environment. AerNos nano gas sensors are designed to be easily integrated into consumer and commercial product lines such as standalone monitoring devices, non-stationary devices (drones, industrial robots, construction equipment, etc.), modes of transportation, wearables, smartphones and the Internet of Things (IoT).
For more information, please visit AerNos.com or findabilitysciences.com. You may also contact us at media(at)AerNos(dot)com or info(at)findabilitysciences(dot)com.