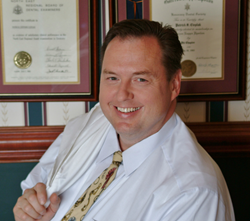 La Plata, MD (PRWEB) April 17, 2017
Dr. Patrick Cieplak is happy to announce that he is now accepting new patients for Teeth-in-1Day™ dental implants without the necessity of a referral. Patients with missing teeth in La Plata, MD, can now turn to this renowned dentist for, long-lasting and reliable implant tooth replacements and have the procedure completed in just a single day. This treatment can be customized to fit a variety of qualifying patient's needs, and the results can last a lifetime.
Dental implants are a tooth replacement option in which titanium roots that function similar to real teeth, are surgically implanted in the jaw bone. With traditional implants, the gums must heal following surgery and the bone of the jaw must fuse to the titanium to create a strong bond, as is seen in regular teeth. Then the titanium roots are topped with a crown. The entire process takes months to complete. Teeth-in-1Day bypasses this healing time and allows patients the benefit of immediate results. It can be used for a single tooth or multiple teeth, so many patients may be able to reclaim their smiles in less time than they ever thought possible.
When patients with multiple missing teeth approach Dr. Cieplak for implants in La Plata, they can receive a full arch restoration with the help of a fixed, implant-supported denture. To accomplish this, Dr. Cieplak simply places a few anchoring implants throughout the jaw and prepares the denture to sit comfortably in that area. This allows patients to retain their old eating habits and eliminates the embarrassing slipping and clicking of traditional dentures that often occurs when patients eat or speak.
Patients who need to replace their missing teeth in La Plata, MD, can now do so in just one day. Those who would like to learn more about dental implants, custom crowns, bridges and bone grafting are invited to schedule an appointment by calling 301-609-9999.
About the Doctor
Dr. Patrick Cieplak is a general dentist offering personalized dental care to patients in La Plata, MD. Dr. Cieplak is dedicated to learning the latest dental techniques and has completed hundreds of hours of continuing education courses. Dr. Cieplak is one of only 3,000 dentists to receive the Academy of General Dentistry's Master's Degree and he is a Fellow in the International Congress of Oral Implantlogy as well as Associate Fellow in the American Academy of Implant Dentistry. Cieplak Dental Excellence strives to offer each patient customized treatment to help them achieve proper oral health. To learn more about Dr. Cieplak, his team or the services they offer, please visit http://www.patcieplakdds.com or call 301-609-9999 to schedule an appointment.