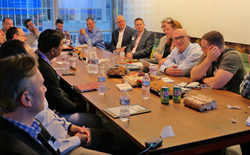 As the amounts of personal information that companies are processing increasingly grow, privacy professionals must adopt tools that will allow them to track what is truly happening with personal information throughout its life cycle.
Washington DC (PRWEB) April 17, 2017
Over several years privacy professionals have been emphasizing accountability over personal information but had limited means for validating it. 2017 represents a shift for privacy professionals as technology offers them new opportunities to track and control the use of personal information across the enterprise. The timing of this development is not incidental, but it does represent a perfect storm of conditions: the General Data Protection Regulation in the EU with its global span and steep fines coupled with an overall cyber security fatigue lead many organizations to look for data related challenges beyond mere protection.
The progress towards technical solutions moves compliance from "paper-based" solutions, such as policies and contracts, to more verifiable and demonstrable tools that ground risk management activities in the facts of how data is actually used across the enterprise.
Prifender will hold a roundtable discussion on the topic of privacy technology around the IAPP Summit in Washington DC on Tuesday April 18, 2017 from 4-6PM at the WeWork White House, 1440 G St., NW Washington DC.
This roundtable discussion will focus on the tangible opportunities to overcome the challenge of translating regulatory requirements to solutions that can be digitally managed. The session, Translating Privacy Requirements to Zeros and Ones, includes three well regarded privacy professionals as speakers: Peggy Eisenhauer, Founder of Privacy and Information Management Services, Kevin Murphy, CISO & DPO of Corning Inc., and Sagi Leizerov, Global Privacy Leader of EY.
About Prifender: Prifender is a pioneer in the field of identity-aware technology. The company's solutions use artificial intelligence technology to discover and map personal information across networks and systems, both structured and unstructured, while associating identities with their respective obligations so organizations can better manage and demonstrate compliance.